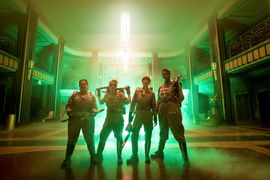 The worst parts of the internet have turned their sights on Leslie Jones.
Over the past month, the comedian and "Ghostbusters" star has been the target of people sending racist and misogynist messages over social media. The campaign against her appeared to intensify after she called attention to it in July.
Now, hackers appear to have broken into her personal website and potentially other accounts, posting personal information such as her driver's license and passport, as well as intimate photos, according to TMZ. The photos were also posted next to a video of Harambe, a 17-year-old gorilla killed at the Ohio zoo earlier this year, mirroring decades-old racist commentary against black people. Jones' manager did not immediately respond to a request for comment.
The hack marks a new low in a seemingly coordinated effort to harass Jones, who along with her "Ghostbusters" co-stars, became the focus of many people's hatred.
The remake of the 1984 hit was released in July, featuring four women as the lead characters instead of the original four men. The campaign began far before the movie's release, though. The first trailer for the movie was one of the most disliked videos on YouTube ever. The movie however ended up garnering mixed reviews.
Shortly after the movie was released, Jones took to Twitter to discuss the attacks before shutting down her account.
"Twitter I understand you got free speech I get it," Jones tweeted at the time. "But there has to be some guidelines when you let spread like that. You can see on the profiles that some of these people are crazy sick. It's not enough to freeze acct. They should be reported."