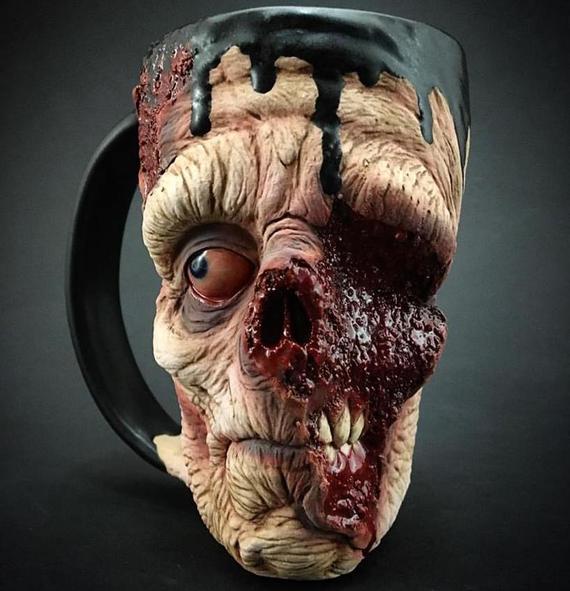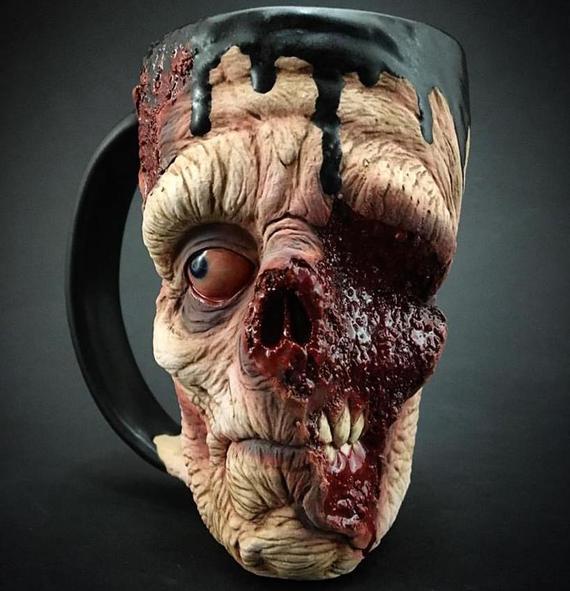 You get up in the morning. You make a pot of coffee. You pour it into a mug that says "#1 Grandma" or "Hang in there!" with a picture of a cat holding onto a tree branch. This is a gentle way to get going on a workday. But you don't have to coddle yourself. Instead, consider starting your morning in a fit of stark terror as you sip your java from a striking zombie-head mug. Now you're truly awake.
The Slow Joe Zombie Mug from Turkey Merck is a masterpiece of functional horror. It features a bloodshot staring eye, a horrible facial wound, shriveled skin and a tar-like substance oozing out of its chopped-off cranium. You can fill it with your favorite beverage. Or brains if you're into that sort of thing.
The product description includes the warning, "Never drop Joe or bang him against any hard object!" You might think this is to avoid breaking the mug, but really it's to avoid angering him to the point where he hunts you down and bites you in your own home, thereby turning you into another shuffling undead zombie mug. Or something like that.
Celebrate the zombie apocalypse with undead…
Related stories
Zombie flamingos turn your lawn into a yardpocalypse
Zombie-proof log cabin has 10-year anti-zombie guarantee
Anti-zombie Swiss Army Knife sports a full-size machete
The mug is handcrafted with a custom glaze over stoneware. It can survive the dishwasher or microwave, though hand-washing is recommended if you're willing to touch it.
Slow Joe is priced as an art piece, at $220 (about £155, AU$315). Domestic shipping is free; international shipping is available, see the product page for details. The mug is currently sold out, but Turkey Merck will release a new series in February, which you should have delivered to your zombie-proof log cabin.
A zombie mug should instill a sense of great confidence in any brave person who owns one. If you can survive your morning cup of fear, you can surely breeze through any conference call, meeting or PowerPoint presentation.
(Via Boing Boing)