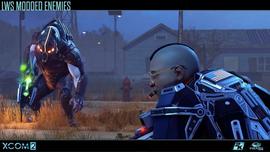 Firaxis recently announced that it had partnered with the creators of an acclaimed mod for XCOM: Enemy Within to offer mods right at the launch of XCOM 2. During a PAX South panel this weekend, we got out first look at what those mods are.
The first of these mods is one adding submachine guns–or at least an XCOM-style version of submachine guns that fill their role. They are used by soldiers who can equip assault rifles and present a tradeoff, not unlike what's seen in the modder's Enemy Within mod, The Long War. They provide a mobility bonus and make it more difficult for you to be detected.
Next is a mod adding new enemies, such as a larger Muton with perks that support nearby aliens. These enemies will also behave in their own unique ways in order to take advantage of their abilities.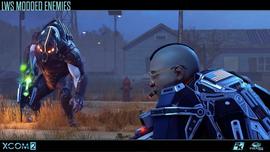 The third launch mod introduces a new development path for soldiers. It's described as a "leader mod" and is said to be similar to the officer mod seen in The Long War. It allows you to train high-rank soldiers with new abilities that help the team, such as one that gives a mobility bonus for one turn to nearby allies.
The way this works is compared to how Psionic classes functioned in Enemy Within, where there is an additional set of choices on top of a soldier's base class. There are, of course, some tradeoffs; not only will it take time and money to build these leaders up, but only one can be deployed on a mission at a time except in "some very special circumstances."
These mods were designed to work independently of each other and slot right into the base game's campaign without upsetting its balance. They'll be available for free from the Steam Workshop on XCOM 2's launch day, February 5.
If you're more interested in content coming straight from Firaxis, several DLC Packs have been announced and will be released over the course of the year.