geeglenews Bridge – It is not an ideal place for cultivating the delicate flowers, but a few passionate horticulturists have found ways to make the capital city a rose garden destination worthy of note, reports Song Huong.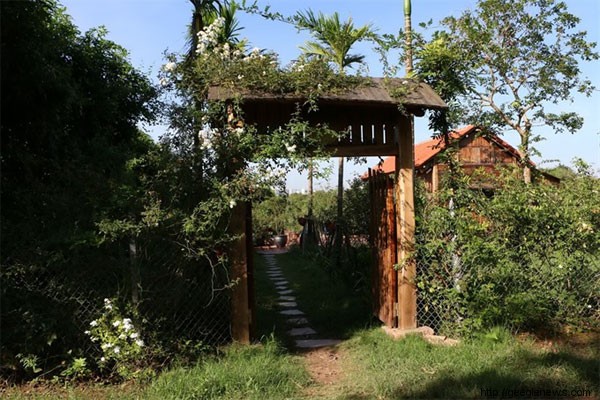 Enter here: A wooden door at the entrance to the Thanh Son Garden.
You open a wooden gate and walk down a small path of white coarse bricks that stands a bit taller than the carpet of green grass on which it is laid.
The path leads to a small brown wooden house, which stands amidst a 4,000sq.m garden full of pots of roses and other kinds of flowers.
White, pink, red, and purple roses; foreign varieties like "Eye for You" and "Lark Ascending". A profusion of roses.
This alluring sight awaits visitors to the Thanh Son Garden.
Nguyen Thanh Son, who works as an irrigation engineer with the Ministry of Natural Resources and Environment, was one of the first people to start planting foreign roses in Ha Noi.
Then he blended them with local, old breeds and now, has begun sharing his knowhow on his Facebook page to inspire others.
He has loved plants and flowers since he was a child, but his passion for roses was ignited a few years ago, and it has only gotten stronger.
Son said growing roses was much more difficult than other flowers, but the result was more alluring – beautiful, fragrant blossoms. Besides, he said roses can be raised throughout one's life and provide blossoms every year.
Ha Noi is not an ideal place for roses, Son said.
"Roses are in their full bloom at the end of spring and early summer. But the weather in the north of Viet Nam is too hot, humid and there are many kinds of diseases that roses suffer from."
For instance, he said, roses imported from the UK and the US, which are not used to the local weather, do not produce flowers as they do back home.
But the avid rose grower has found a solution.
Son has managed to graft foreign roses onto the local tam xuan (eglantine rose) variety so that the flowers are as beautiful and well-formed as foreign roses and the plants are sturdy as local ones.
However, there are some foreign roses, like Summer Song in David Austin's collection, which cannot be mixed with local varieties.
Though he can make a comfortable living by selling his rose plants to flower growers, Son said he feels a pang whenever he sells one.
"I spend a lot of time, energy and passion in caring for a plant," he said, "When I sell it, there is a lot of pain."
There is a lot of demand for rose plants, especially foreign varieties with many wealthy families wanting to use them to decorate their homes.
But Son feels that foreign roses are best raised here if they are grafted with local ones to become stronger and less vulnerable to vagaries of the weather and diseases.
"I do not sell many roses; I have never felt I am competing in the market. I plant roses for my passion first, then I try to inspire others rather than just selling my flowers for profit."
The Thanh Sơn Garden, therefore, is different from other commercial gardens. It does not have as many plants for sale. For flower lovers, though, it is a great place to visit.
Difficult, yet simple
The Thu Thuy Rose Garden is another place to visit.
It has already achieved online popularity, with its Facebook page recording thousands of visits.
Having planted foreign roses for two years, Thuy has gathered enough experience to run a rose garden with hundreds of varieties imported from Thailand and China to offer visitors everyday.
"Foreign roses at first seem difficult to grow," she said, "Yet if we spend time researching, things turn out to be simple."
Depending on the season, foreign rose plants may suffer from different diseases, which can be guessed from the plants' leaves.
"If we understand the disease and treat it in time, the plant will get stronger and bloom regularly," she said. "That's why it's difficult and easy at the same time."
Thuy said that in recent years, more people, mostly over 30, who have stable incomes, were buying foreign roses in her garden.
Commercial gardens
Located in Tam Hiep Commune in Thanh Tri District, the Thang Long Rose Park has for long been a favoured destination for rose lovers in the capital.
With a total area of around 45,000 sq.m, which makes it the biggest of its kind in the city, the garden houses thousands of rose plants, including over 300 world famous varieties David Austin.
Dao Manh Hung, the owner, can always be seen busy trimming or watering his rose plants.
"When I was a child, I used to get yelled by my parents because my clothes were covered in dirt after I spent hours planting trees," Hung said. "Growing up, I did not choose this job. It finally picked me."
"I didn't realise then that this job was full of difficulties."
In 1983, he travelled to Czechoslovakia (presently Czech Republic and Slovakia) to learn a trade in the construction field, and it was also when his love for roses started to blossom.
"I was very impressed on visiting many parks with so many old rose trees in the country, especially the Lidice Park which is dedicated to the victims of the massacre by German Nazis in 1942.
"The park has received so many beautiful roses sent by international friends from around the world as gifts to sympathise with the pain of the local people," Hung said.
After seven years working abroad, he returned home and researched green solutions to improve the urban environment.
He also continued with his hobby of planting trees via making bonsais. It was while he was looking at various kinds of creepers to plant in high buildings that he came up on the rose vine.
"To develop well, a rose plant needs at least six to seven hours of being exposed to sunlight. In case there is a lack of sunlight, the gardener should add light. Besides, it needs much soil with stable nutrition. The pots for rose plants should have many holes so that its roots can easily 'breathe'. The rose tree needs air both above and below," he explained.
Besides 15 breeds that originated in Việt Nam long ago, like the Sa Pa and Hải Phòng roses or the Nam Định white rose, Hùng has also imported varieties carefully selected from the UK, France or Bulgaria.
Rose varieties from Asian countries like Thailand, Japan and China can also be found growing in Hung's garden.
"After one or two years of being nurtured in the severe weather conditions of Viet Nam, the European roses showed signs of weakening, like becoming stunted or changing its colours.
"Other specialists and I studied this problem and were successful in using the tropicalisation method, helping the foreign varieties adapt to Viet Nam's weather condition, which is a breakthrough for rose cultivation in Viet Nam," Hung said.
The Thang Long Rose Park also provides jobs to dozens of local villagers who are able to earn a stable income.
"What makes me more happy everyday, besides seeing my roses blossom as big as a bowl, is hearing my employees praise the beauty of a rose that has just opened its first petals."
Exotic: Lyda Rose at the Thanh Son Garden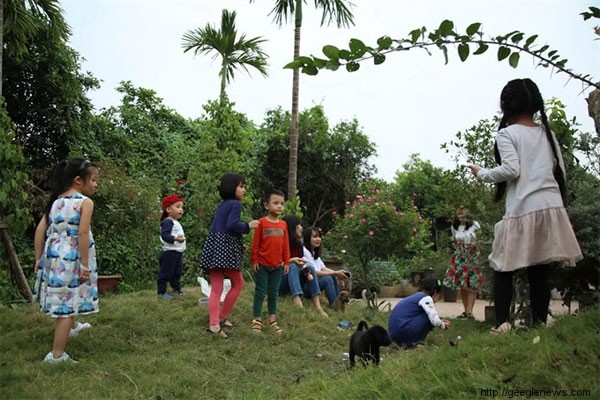 For kids, too: Children play at the Thanh Son Garden.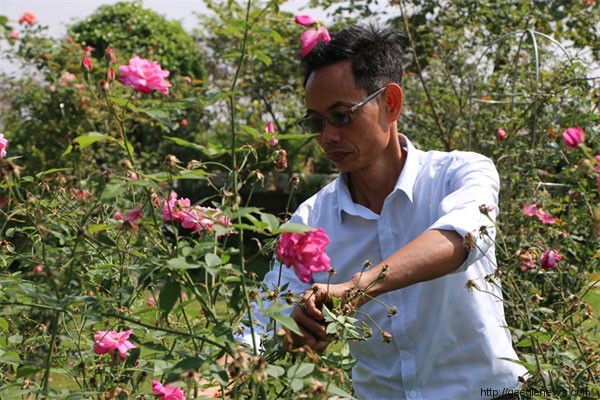 Pruning: Dao Manh Hung takes care of a hybrid rose plant in his garden. VNS Photos Doan Tung
An eyeful: Eye-for-you roses in the Thanh Son Garden. Courtesy Photos of Thanh Son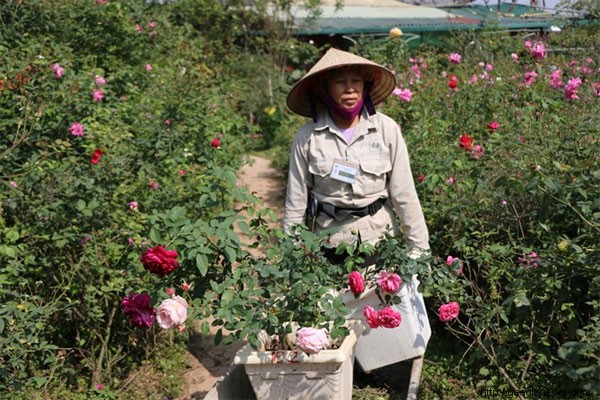 Gardening work: Hung's farm employs dozens of local farmers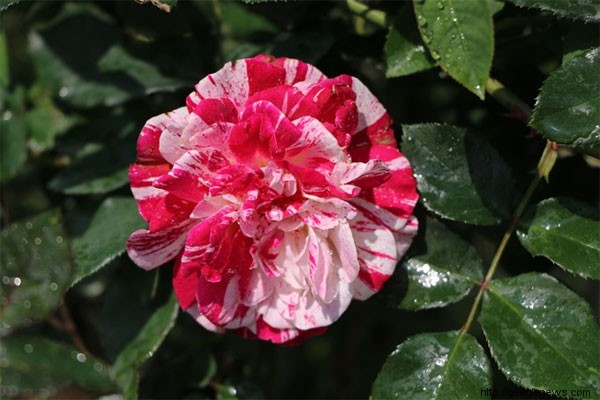 Extra special: A rare rose variety from the Thang Long Rose Park displayed at a rose festival in downtown Ha Noi.
VNS