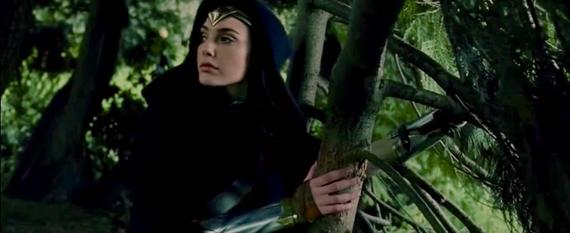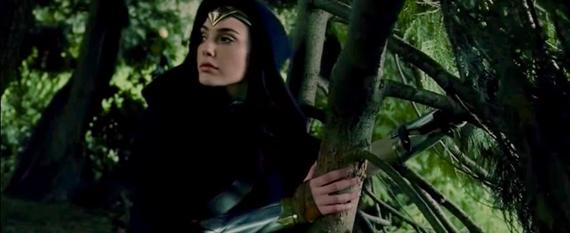 Warner Bros. debuted a first look at the upcoming "Wonder Woman" movie Tuesday in a special featurette with filmmaker Kevin Smith and DC Comics Chief Creative Officer Geoff Johns. The footage appeared alongside the new "Suicide Squad" trailer during the "Dawn of the Justice League" special on The CW.
Directed by Patty Jenkins and starring Gal Gadot as Wonder Woman, the DC Comics origin film tells the story of Amazon princess Diana and how she became the legendary superhero.
In the new footage, we hear from "Wonder Woman" cast members, the director and Johns talk about one of the most beloved DC Comics superheroes, one who's gained legions of fans for over 45 years.
Related stories
'Wonder Woman' production is underway, revealing new look for the heroine and cast list
'Wonder Woman' lassos new director Patty Jenkins
"Wonder Woman is one of the greatest superheroes out there, but people don't know her origin like they know Superman's origin or Batman's origin," Johns says. "What we want to do in this film is tell people who she is, where she comes from and she does what she does."
"These Amazons were created to protect man's world, but they since abandoned it," Johns continues. "Diana is asking constantly, 'Why don't we go do what we were created to do and protect man?' and they say, 'Because they're not worth it.' And this takes her on a journey into our world."
The video shows Wonder Woman battling with her sword and shield, riding horses, in her costume and in disguise, and her introduction to Batman.
In addition to Gadot playing Diana Prince/Wonder Woman, the cast includes Chris Pine of "Star Trek" as her love interest, Captain Steve Trevor. Other members of the cast (whose roles are still unannounced) include Robin Wright from "House of Cards," Danny Huston from "X-Men Origins: Wolverine," David Thewlis of the "Harry Potter" series, Ewen Bremner of "Snowpiercer," Saïd Taghmaoui of "American Hustle," Elena Anaya of "The Skin I Live In" and Lucy Davis of "Shaun of the Dead."
2016 movies to geek out for (pictures)
"She's an Amazon warrior," Johns adds of Wonder Woman in the video. "She's the best fighter in the DC universe. She has strength and speed and she's been training her whole life for war."
"The greatest thing about Wonder Woman is how good and kind and loving she is," director Patty Jenkins says. "Yet none of that negates any of her powers."
"Wonder Woman" hits theaters in June 2017, but fans can see the superhero this March in "Batman v Superman: Dawn of Justice."