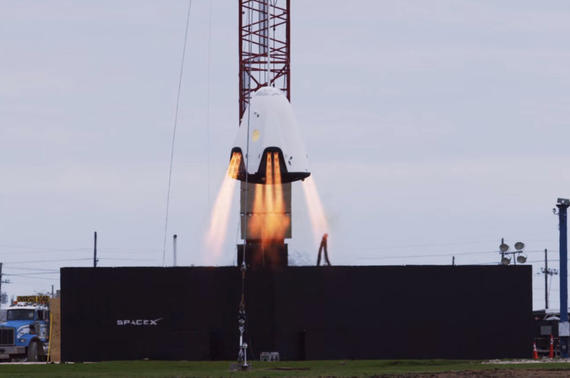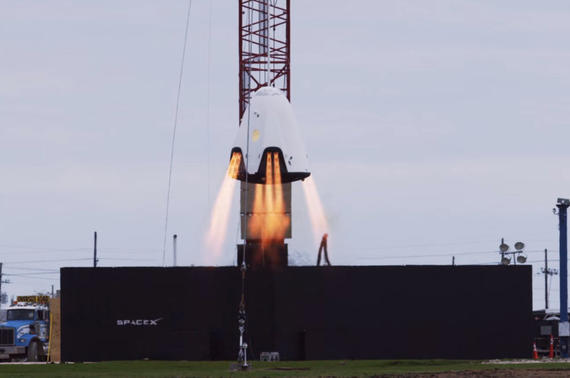 Commercial spaceflight company SpaceX sure knows how to give its equipment cool names. It has a Falcon 9 reusable rocket. It also has the Dragon 2 crew capsule, designed to ferry people into space and return them gently to Earth. The Dragon 2 sports eight SuperDraco engines (most likely a reference to the Latin for "dragon," and not Draco Malfoy from "Harry Potter").
All eight of those engines are on display in footage showing what SpaceX calls a "picture-perfect propulsive hover test" for the Dragon 2. The video was taken on November 24, but released Thursday on YouTube.
The SuperDraco thrusters are paired up around the edges of the capsule. You can see them firing distinctly in the video. SpaceX refers to these pairs as "jet packs," in keeping with the company's geeky-cool nomenclature.
Related stories
SpaceX fails in third attempt to stick landing on its drone barge
Watch SpaceX launch and land a rocket for the first time at Cape Canaveral
SpaceX presents a rockin' vision of recyclable space travel
The engines produce 33,000 pounds of thrust that allow the capsule to hover like a graceful insect in the air for a few brief moments. The experiment was aimed at "demonstrating vehicle control while hovering." The project is part of SpaceX's work with NASA's Commercial Crew Program, a public-private partnership focused on developing equipment for human space flight.
SpaceX has lived through both triumph and heartbreak recently. It successfully returned its reusable Falcon 9 rocket to a landing pad after it launched and delivered 11 satellites into low-Earth orbit on December 21. Last week, the company took a third try at landing the Falcon 9 on a floating barge. For the third time, it failed to stick the landing and exploded.
The successful Dragon 2 hover test is another check mark in the triumph column for SpaceX. Getting humans and gear back and forth to space has always been challenging, but the video is a fascinating glimpse at a future spacecraft that should one day carry people far above our planet.
(Via Engadget)