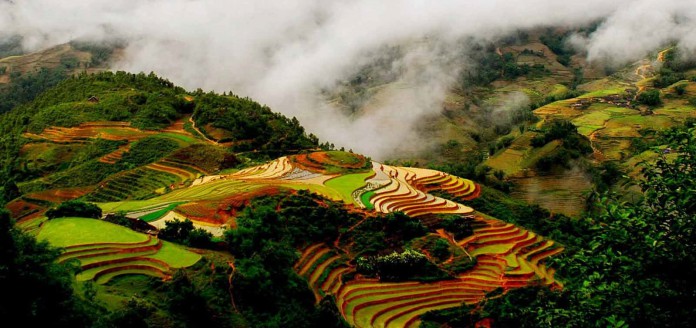 While coming to Sapa during travel in Vietnam, all travelers are surprised by terraced rice fields in Sapa of Lao Cai province sharing the border with China in north of Vietnam.
The terraced rice fields in Sapa like the giant ladders connecting heaven and earth become one of the most essential attractions in this charming region.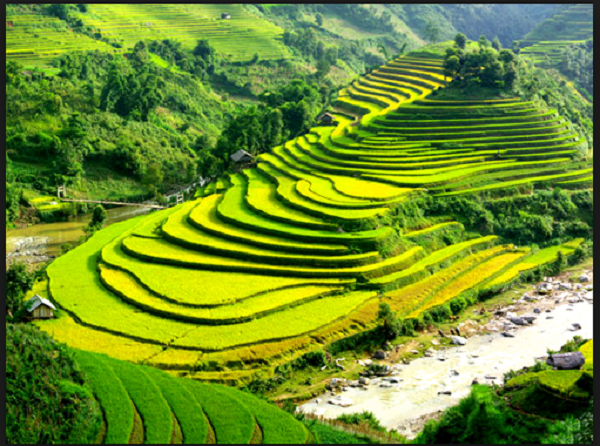 The terraced rice fields in Sapa have been created since several hundreds of years by the diligent hands of farmers belonging to ethnic minorities as Ha Nhi, Hmong, Dao … living around the Hoang Lien Son Mountain.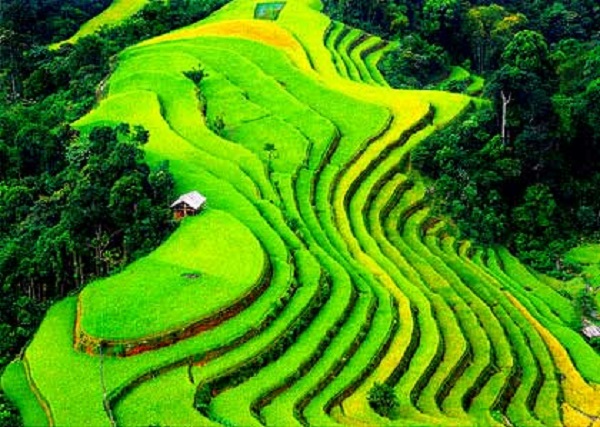 The terraced rice fields, whether big or small are "sculpted" to be easy to cultivate, including extensive terraced fields of hundreds of hectares in Ta Van, Lao Chai, Ta Phin villages … like the huge landscape paintings with soft curving lines created by "barefoot artist"…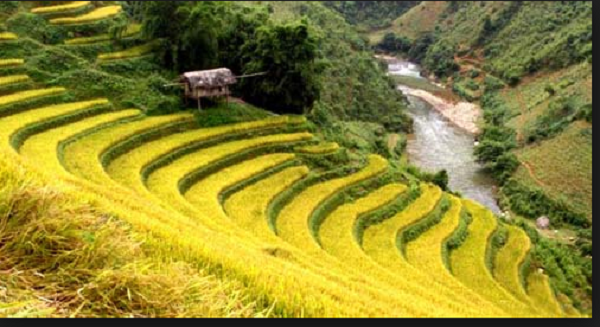 Rice field in terraces is a form of cultivation on slopes of many different peoples in the world. As in the highlands and mountainous land, people have not much flat land, especially for rice cultivation. To resolve this problem, people look for the hillsides to create terraces to keep water…
Sa pa rice terraces are creating a unique tourism product to Vietnam. Especially, the travel magazine: Travel and Leisure (USA) voted these fields as the 7th most spectacular rice terraces of Asia and in the world.
While coming to Sapa region during travel Vietnam, all travelers cannot hide their surprise when witnessing the spectacular terraced fields like stairs rising until sky. Sa pa rice fields in terrace have a magnificent beauty of a beautiful natural picture…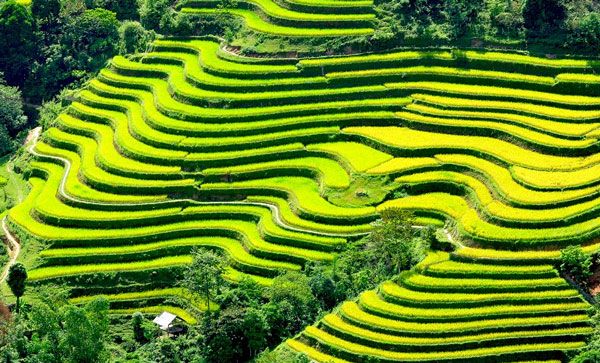 Travel and Leisure talked about Sapa' rice fields in terraces: "With great scenery of the terraced rice fields looks like ladders to climb up to the sky, Sapa has become one of the main tourist attraction in Vietnam. Traveler can take night train from Hanoi to Lao Cai city before a short car trip to visit Sapa. They will admire the scenery of rice fields by meeting the hospitable girls of Hmong, Dao people … in traditional colorful dress".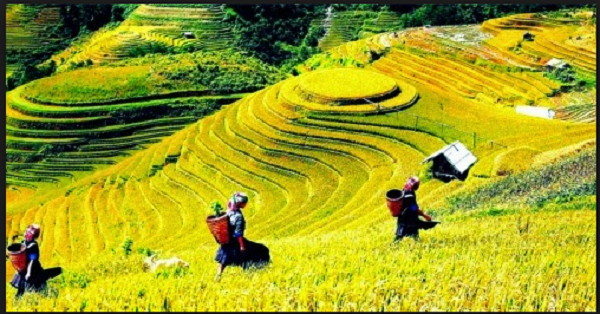 Sapa terraced fields created by many generations are not only masterpieces but also the granaries of local ethnic minorities. This is the method of efficient mountain culture way which contributes, for longtime, to create a unique tourism product while travel in Vietnam.
Nguồn: http://www.ethnies-mekong.com