With a very important number of temples, monasteries and many cultural values, unique Buddhist beliefs… the Bagan ancient capital always know how to conquer the visitors while travel in Myanmar.
Situated on the banks of the Irrawaddy River in central Myanmar, Bagan is the ancient capital of the most flourishing kingdom of Bagan in 11-13 centuries. Now, Bagan is also the best place where most cultural value as Buddhist temples, stupas and monasteries…are well – preserved.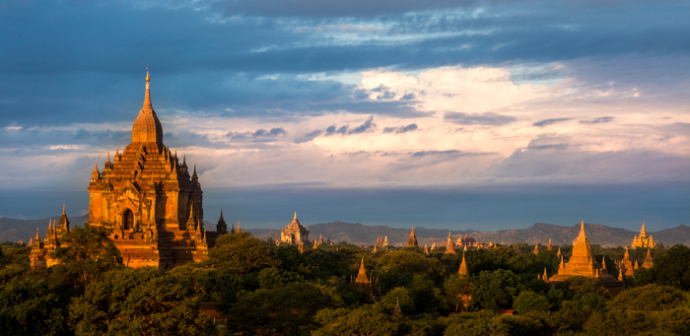 This Myanmar's former capital consists of three towns: Nyuang U, Old Bagan and New Bagan. Nyuang U is a large town with a train station, port and airport… New Bagan is a new town built in 1990 for former residents moving from Old Bagan which is a scenic area with many ancient monuments and temples are preserved very carefully.
 Discovery of Old Bagan by bicycle, horse carriage or on foot:
One of the interesting things in Bagan is to explore distant lands, little visited by tourists. It's not always easy to access these places but in return, you will have a lot of experiences and visits in your own way such as walking, biking or horse carriage in Old Bagan. You will stroll on the red trails to contact the local populations without missing many chances to explore many temples, pagodas and monasteries under the vast and blue sky.
The temples in Old Bagan are close together each others and it's easy to make a tour to explore almost everywhere the region. If the walking tour allows you to stop anywhere you want, your bicycle will takes you to more far land, the biggest temples or horse carriage will gives you more enjoyable experiences.
Along the way, you can stop at all temples. Before entering into each temple, you will not forget to remove shoes, sandals…to walk barefoot to visit the Buddha with a closed and venerable heart. The temples in Bagan are made of bricks. The ground is hot. So the best time to visit is in the early morning or late afternoon.
Do not hesitate to ask local people if you have any questions or when you do not know the way, because many people here speak English and they are very kind. You can buy also lacquer paintings as gifts at cheap prices.
Go to Manuha Pagoda to learn about the customs of offerings in Myanmar which becomes the culture, the happiness of Bagan people.
You don't miss the Ananda temple, built in 1105 which is the most sacred and the most important here. This temple in Bagan was badly damaged in the earthquake in 1975 but was later restored and gilded in 1990. The Mahabodhi temple is the destination not to be missed, with the same name and architectural style as Bodhgaya temple in India.
You should also stop in the largest temple of Bagan: Dhammayangyi built by King Narathu.
Bagan's highest temple is Thatbyinyu Phaya: 61 meters high and was built in the mid 12th century by King Alaungsithu. Standing on this highest position, you will have a panoramic view on Old Bagan. Shwesandaw temple is perfect position to admire the purple and red sky at sunset…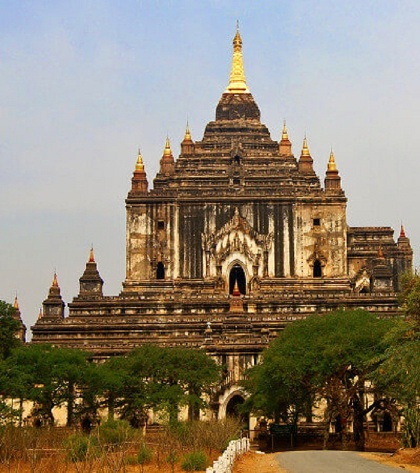 Conquer Popa Mount to explore sacred mountain and authentic villages:
Located at 50 km from the south of Bagan, the Popa Mountain is a famous pilgrimage site of Myanmar. The mountain is known for Taung Kalat monastery located atop of an ancient volcano of 737 m high. Visitors must go through 777 steps to reach the monastery. The Popa Mount at 1,520 m high is considered as legendary home of supreme Gods.
After leaving the Popa Mount, don't forget to visit many villages on bumpy roads in Bagan where you will meet a very hospitable population who are an inseparable souvenir after travel in Myanmar.
Source: http://www.ethnies-mekong.com