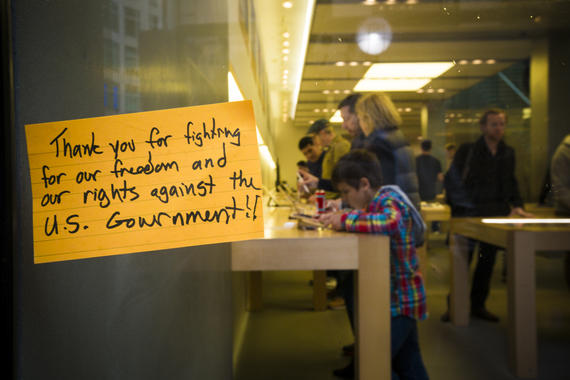 CEO Tim Cook believes Apple is making the right choice.
Cook once again defended Apple's decision to fight a court order demanding that it hack into an iPhone used by one of the shooters in the San Bernardino, California, massacre last December.
"We know that doing this could expose people to incredible vulnerabilities. This would be bad for America," Cook said in an interview on the ABC News program "World News Tonight with David Muir."
MORE ON APPLE'S BATTLE WITH THE FBI
How an iPhone became the FBI's public enemy number one (FAQ)
Apple to argue First Amendment in iPhone encryption fight
Bill Gates hedges on FBI demand for iPhone access
Apple losing to feds in court of public opinion
On February 16, a federal judge ordered Apple to cooperate with the FBI in unlocking an iPhone 5C used by one of the terrorists in the San Bernardino shootings. The order would require Apple to build a custom version of its iOS mobile software so investigators could access data protected by encryption. Apple contends that such a breach of security could, in essence, create a back door that would expose countless iPhone users to unreasonable risks.
"Some things are hard and some things are right. And some things are both," Cook said in the ABC interview. "This is one of those things."
The standoff between Apple and the FBI turns up the heat on a simmering battle between Washington and Silicon Valley over encryption — the technology that encodes information to prevent unauthorized readers from seeing it. Apple and other technology companies argue that encryption is necessary to protect private, personal information. Law enforcement agencies say the technology hinders their ability to disrupt criminal and terrorist activity.
Apple has until Friday to respond to the court order, and a hearing is set for March 22 in US District Court for the Central District of California in Riverside. Apple has said it will fight the government's request all the way to the Supreme Court if necessary, and will reportedly turn to the First Amendment to defend its stance.

ABC Breaking News | Latest News Videos