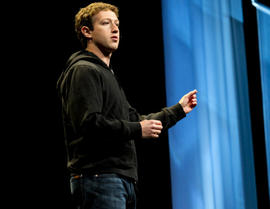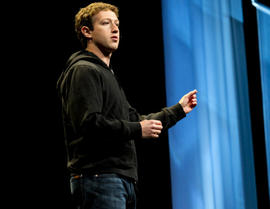 Facebook and Apple's offices are separated by just 15 miles of highway, a 22-minute drive. But they might as well be worlds apart.
Where Apple on Tuesday told investors that iPhone sales growth has stalled, Facebook Wednesday reported booming business selling the ads that run on phones and other mobile devices.
In fact, David Wehner, Facebook's CFO, said the company experienced its "first truly mobile holiday season."
"Advertisers are no longer asking us whether they should advertise on mobile, they're asking how," he said in an interview. "We're answering that question well with Facebook and Instagram."
Mark Zuckerberg, Facebook's CEO, said in a statement that the effect has been a boon. "Our business is thriving."
Though phone sales growth is stagnating around the world, Facebook said it's finding new ways to attract advertisers both a combination of audience scale and new technology that shows the right ads to the right people.
It's also proving to be a mobile juggernaut: More than 90 percent of the 1.59 billion Facebook's monthly active users access the service through a phone, tablet or other mobile device. That percentage also applies to the 1.04 billion people who use Facebook every day. The scale translated into big money in the last three months of 2015. The company on Wednesday said 80 percent of the $5.6 billion it rang up in ads during the fourth quarter were shown on mobile devices.
"Heading into 2016, it's clear that consumers have shifted to mobile, and businesses know they need to catch up," Sheryl Sandberg, Facebook's COO, said on a conference call with analysts.
Investors clearly liked the results. Shares rose more than 12 percent in after hours trading.
Using Facebook more
Facebook's growing list of features have helped to fuel its success. About 400 million people now use its Instagram photo-sharing service while 900 million folks use Messenger to communicate directly with others.
Facebook has also expanded the types of things people can share on Facebook Messenger, such as videos, photos and stickers — the company's equivalent of emojis. That, Zuckerberg said, has helped Facebook learn how to turn Messenger into more of a business than merely a feature of its service.
People have also watched 100 million hours of video each day. In November, the company said 8 billion videos were watched each day, double what it had been a little over six months before.
The Menlo Park, California-based company said profit topped $1.5 billion as advertisers flocked to its social network and Instagram, the photo-sharing service it bought four years ago for $1 billion.
In the three months ended December 31, Facebook tallied 79 cents per share in profits, after adjustments for things like stock-based compensation. Sales rose nearly 52 percent to $5.8 billion. Analysts expected profit of 68 cents per share on sales of nearly $5.4 billion.