'So where did you find the chef?" my friend asks Mel, co-owner of the Haughmond hotel, while scraping up the last smear of chocolate fondant. "I married him," she replies, looking pleased with herself – and no wonder: this is the best meal I've eaten all year.
We are in Basils, the Haughmond's new fine-dining restaurant, which relocated from Wrockwardine, a couple of villages away, to the hotel in Upton Magna, just outside Shrewsbury, in September. In three months, it has won two AA rosettes and been included in the Michelin guide.
The space is great: the upper level of a converted barn, it seats just 16, giving a cosy, supper-club feel. This is enhanced by the fact that the restaurant is only open Thursday to Saturday, and serves a single, monthly changing tasting menu. Everyone is eating the same thing at the same time, which makes the waiter's explanation of each dish a little redundant by the time he gets to the third table – "Yes, we heard, it's a ham-hock bonbon …"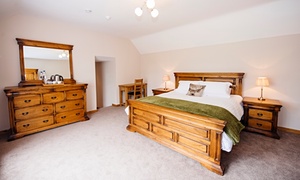 Basils proves sensational from the aperitif – a G&T of rhubarb gin and a slice of ginger – onwards. The food highlights include a gorgeous flaky mushroom brioche served with artichoke soup and duck terrine; a tender venison fillet with a miniature game pie; and the aforementioned oozing chocolate fondant with cherry ice-cream. All we can find to criticise is the stingy measure of dessert wine.
Mel tells us that Martin, her husband, is a self-taught chef, which is astonishing considering the standard of the food, but it also makes sense. There are plenty of skilful touches – purées, crisps and "textures" of this and that – but nothing is on the plate just to show off, as at so many posh restaurants. It is all there because it tastes good. The menu is keenly priced at £40, although the matching wines (£25pp) bump the bill up.
Mel and Martin bought the Haughmond, a former coaching inn that had been derelict for years, in 2012. They now employ 18 people from Upton Magna in the restaurant, brasserie, B&B, cafe and village store. They claim to have restored the old inn "to its rightful place at the heart of the local community". This is no locals' pub, however; it's a special-occasion venue. But both the brasserie and Basils are fully booked on the night we visit, which suggests it is meeting a need – even if no one is propping up the bar.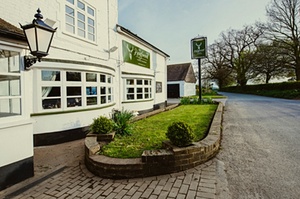 There are five rooms above the brasserie. We are in the Red Room, which is the biggest and has a great view of the Wrekin, a handsome bump on the Shropshire plain. Our room is nice, if a little nondescript, but we're not here for the decor – we just need somewhere to sleep off that six-course dinner. On that front, it delivers, with a superking-size bed as wide as it is long. We peep into another room and it is similarly plain, though the inn itself has character, with thick stone walls and sloping ceilings. The Sika Room is the most charming, up in the eaves.
The couple renamed the place after local landmark Haughmond Hill, where they took a walk after deciding to buy it. A herd of deer crossed their path, which explains the room names, the logo and the general theme: stags can be found on cushions, mugs and coat hooks; they are framed, mounted on the wall and sitting on tables – there is even Antler Ale at the bar. I suspect they bought everything they saw that had a deer on it.
Breakfast is as good as dinner has led us to expect. A short menu of freshly cooked dishes – salmon and scrambled eggs, full English with Shropshire sausages – always beats a buffet. Afterwards, we drive to Shrewsbury, with its medieval streets and hundreds of listed buildings. It has some refreshingly proper pubs – without a bonbon in sight.
• Accommodation and dinner was provided by the Haughmond hotel (doubles from £85 B&B, 01743 709918, thehaughmond.co.uk)
Ask a local
Timothy King, visitor team, Shropshire Council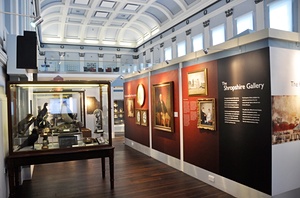 • Art
Shrewsbury Museum and Art Gallery sits at the heart of this medieval market town occupyingoccupies the former Music Hall; a grand building that overlooks the market square. There is plenty to see, including five galleries of Shropshire history with contemporary art and special exhibitions. You'll also find the visitor information centre here and a fantastic cafe serving coffees, teas and lots of homemade treats.
• Sightseeing
Shrewsbury's centre is packed with timber-framed buildings and higgledy-piggledy streets. Visitors can take a boat trip on the Severn and should visit Quarry Park's beautiful gardens. Charles Darwin was born and educated in Shrewsbury and all around are reminders of his association with the town.
• Great outdoors
Haughmond Hill is a firm favourite for walks. There are four clearly marked trails to explore, with fantastic views over Shrewsbury and the Severn, and towards Wales.
• History
The remains of the fourth-largest Roman town in Britain at Wroxeter Roman City, with its recreated townhouse, give a fascinating insight into how a city almost as big as Pompeii would have functioned.