Not many hotels encourage guests to ride a Segway to breakfast. But the Fish Hotel does things a little differently. Rather than one building, this hotel is a collection of annexes scattered around the 400-acre Farncombe estate, with steep connecting paths, perfect for some Brian Pern-style transportation. Not that Segways are handed out as standard, sadly; I was midway through an early morning guided session with the on-site activity centre and stopped to refuel at the Lodge, which houses the reception, restaurant and bar. Staff didn't turn a hair at my unusual arrival, which was in keeping with the faultless service throughout our stay.
Take our check-in the night before. The grounds are a little confusing to navigate in the dark, so the night porter drove us in convoy to our room in the Stables. He came back first with delicious nightcaps of rum and ginger, then again with a lighter for the wood-burning stove. This was the biggest treat of all: it was hard to tear ourselves away from the hearth – I kept adding just one more log.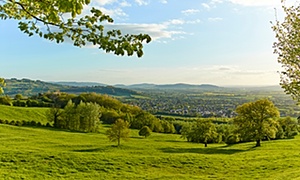 The bed, when we got there, was super-kingsize. But annoyingly, it didn't have a super-kingsize mattress, only two smaller ones pushed together. That aside, the room's vaguely Nordic decor was faultless: cream, grey and blue colour scheme, faux-fur throws, basket of firewood. The bathroom was similarly tasteful, with mismatched floor tiles, a freestanding bath, rain shower and Orla Kiely toiletries.
As well as the Segway safari, guests can book a tour of the estate by quad bike. It is a thrilling way to explore off-road – at what feels like dangerously high speed. And the grounds are worth exploring, with meadows, woodland and views over the Vale of Evesham (plus sister hotels Foxhill Manor and Dormy House).
For even better views, the staff gave us a lift to Broadway Tower (there are plenty of Jeeps for ferrying guests around). The 18th-century folly perches on the second-highest point in the Cotswolds, with views over 16 counties. From here, we walked the mile and a half to Broadway, the closest village to the hotel. It is classic Cotswolds: picture-perfect and full of souvenir shops, outdoor clothing stores and tea rooms. But there are also some nice pubs (and great cocktails at the Broadway hotel), plus an offshoot of Oxford's Ashmolean museum. We didn't fancy the walk back across fields on a rainy evening, so summoned the Jeep.
As we got ready for dinner – fire on, hot bath, glass of prosecco – we were looking forward to food of the same standard as the rest of the hotel. Our hearts sank when we sat down and our waitress explained the "concept" – never a good sign. It was a "gastro-buffet", a bit like one you might find at an all-inclusive resort: help yourself to starters and dessert, and order a main course. The starters were dire: uninspiring prawn cocktail, breaded mushrooms that had spent too long on the hotplate, pasta salad. Mains were, if anything, worse: sad plaice with congealed sauce on nuked spinach, and inexplicably tasteless duck leg with sugary red cabbage. We consoled ourselves with a pudding from the Smeg fridge – though why anyone thought bakewell tart would be nice freezing cold, I don't know.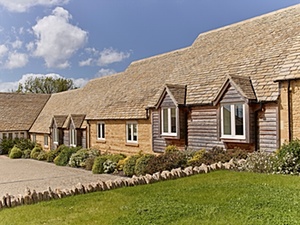 Apparently, they're remodelling the "concept", and turning it into a fish restaurant. That change can't come soon enough. A pie and pint at the Blue Boar in Chipping Norton the previous night had been a better dinner by far.
The bad food was all the more glaring because everything else was spot on, with nice touches such as an interesting range of gins at the bar. Some people might find the signs around the place annoying – "Oh deer, please beware" to warn drivers of animals on the road; "Come on baby, light my fire" for those who need help with their stove – but I quite liked the personal touch.
You would never know that until recently, this hotel was a conference centre – until you went to dinner.
• Accommodation was provided by The Fish Hotel (01836 858000, thefishhotel.co.uk), which has doubles from £99 B&B, three-course dinner £25
Ask a local
Louise Carson, house manager, Ashmolean Museum Broadway
• Art
Broadway has been associated with art since a colony of US artists led by Frances Millet set up home in the village. The standard of galleries such as Trinity House, John Noott and Haynes Fine Art reflects this historical expertise. The biennial Broadway Arts Festival celebrates local and national art; the next one is 3-19 June 2016.
• Music
The Crown and Trumpet is a traditional pub with fantastic live blues and jazz.
• Shop
There are some beautiful shops, perfect for Christmas presents. Oka is a luxury interiors store, while clothes emporium Landmark keeps you fashionably togged up for those bracing Cotswold walks.