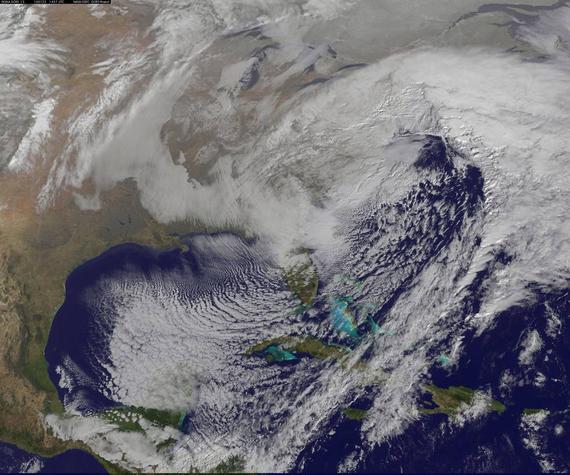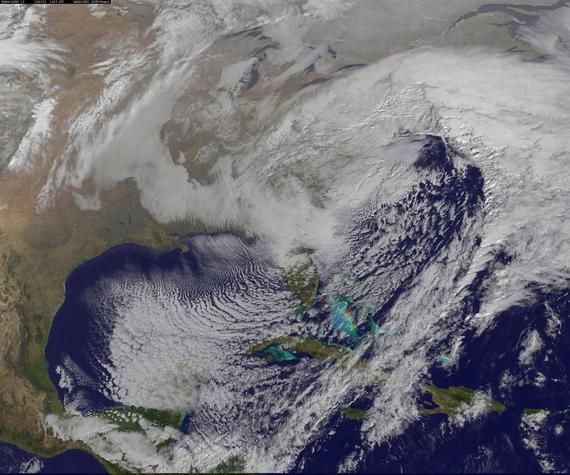 As a massive blizzard with hurricane-force winds pummeled the East Coast Saturday, International Space Station Commander Scott Kelly tweeted photographs that make the storm look treacherous even all the way from space.
"Massive snowstorm blanketing East Coast clearly visible from Space Station! Stay safe!" Kelly tweeted.
"As #Blizzard2016 passes over Chicago, the East Coast seen in distance clearly has a long way to go," he tweeted later in the day.
Kelly also posted another stunning view of the storm, which he referred to as thundersnow. That's a thunderstorm that drops snow instead of rain from the sky.
"Rare thundersnow visible from Space Station in Blizzard 2016!" tweeted Kelly, who played a game of space ping-pong with balls of water this week.
Massive #snowstorm blanketing #EastCoast clearly visible from @Space_Station! Stay safe! #blizzard2016#YearInSpacepic.twitter.com/oq6ewYaTPQ

— Scott Kelly (@StationCDRKelly) January 23, 2016
As #blizzard2016 passes over #Chicago, the #EastCoast seen in distance clearly has a long way to go. #YearInSpacepic.twitter.com/qMrkTXo9ie

— Scott Kelly (@StationCDRKelly) January 23, 2016
Rare #thundersnow visible from @Space_Station in #blizzard2016! #Snowzilla#snowmaggedon2016#YearInSpacepic.twitter.com/l3p6hjnJOq

— Scott Kelly (@StationCDRKelly) January 23, 2016
In addition to Kelly's space photos, NASA satellite images captured the storms gathering Friday night and showing the size of the epic blizzard that ended up bringing large parts of the East Coast to a standstill on Saturday, grounding flights, closing roads, halting trains and reportedly leading to at least 19 weather-related deaths, according to Reuters. The heaviest storm in years closed the capital and is expected to dump between 24 and 28 inches (60 and 71 centimeters) of snow on New York City alone, with winds gusting up to 45 mph (72 kph), the National Weather Service said.
NASA shared another satellite image Saturday, seen above, once the storm was in full force.
"A visible image of the major winter storm was taken from NOAA's GOES-East satellite on Saturday, January 23, 2016 at 1437 UTC (9:37 a.m. EST) as the Baltimore/Washington corridor was under a blizzard warning," according to NASA. "Winter storm warnings and a handful of blizzard warnings remain in effect from the Southeast to the Northeast. By Sunday morning, January 24, the low-pressure storm center is forecast to move further offshore into the North Atlantic Ocean."
So bundle up, stay safe, read our tech tips for coping with a blizzard and be sure to wave at Kelly up in the International Space Station.