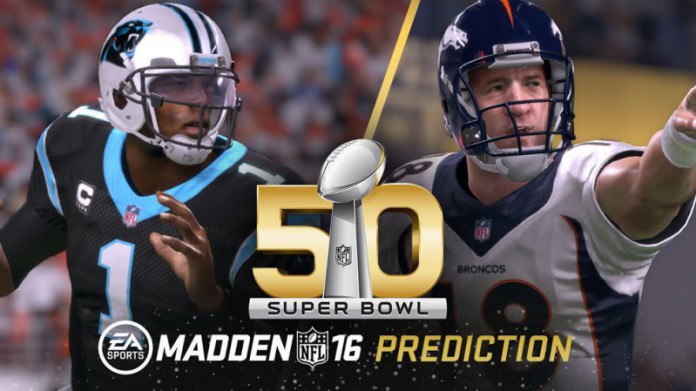 EA Sports has released the results of its annual Super Bowl simulation using Madden NFL 16. This year, the simulation predicts–as many sportswriters, fans, and Vegas oddsmakers also believe–that the Carolina Panthers will beat the Denver Broncos in Super Bowl 50.
Carolina will deny Peyton Manning's attempt to win a second Super Bowl by the score of 24-20, according to the simulation. Carolina QB Cam Newton will be named Super Bowl MVP after a 19-26 passing performance where he racks up 216 yards and one touchdown. The simulation also predicts that Newton secures Carolina's victory with a rushing touchdown.
Manning doesn't have such a bad day, either, going 21-37 for 241 yards and two touchdowns in the loss. The simulation said the Broncos will be down 17 points at the half. Manning led a second half comeback and Aqib Talib picked off Newton, but it ultimately was not enough for the Broncos.
A full recap of this year's Madden Super Bowl prediction is available here.
EA Sports also notes today that its Madden Super Bowl simulation has accurately predicted the Super Bowl winner for nine of the last twelve games. Last year, the simulation was eerily accurate, not only perfectly predicting the final score of the New England Patriots vs. Seattle Seahawks, but also nailing the Pats' fourth-quarter comeback sealed by a game-winning touchdown pass from Tom Brady to Julian Edelman.
This year's Super Bowl 50 takes place this coming Sunday, February 7. The game airs on TV network CBS, whose parent company, CBS Corp., also owns GameSpot.
In other Madden news, Madden NFL 16 will join the Xbox One EA Access lineup of free games tomorrow, February 2.
A Pokemon commercial celebrating the franchise's 20th anniversary will also air during the game. You can watch the extended version of the 30-second ad right here.