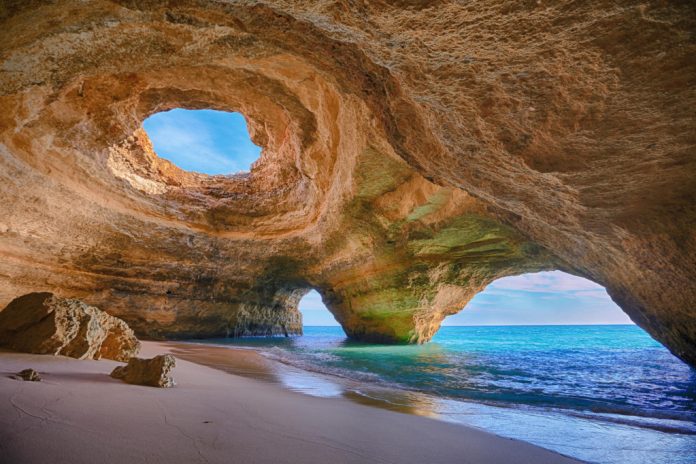 Standing in front of large caves, visitors feel small and overwhelmed by the beauty of nature.
The Algarve is a beautiful cave located in Portugal, formed by the erosion of sea waves into limestone. Visitors can also see dolphins swimming in the blue waters.
The Ruakuri Cave, located in Waitomo, New Zealand, has thousands of fireflies emitting fluorescent light illuminating the stone walls, creating a unique magical scene.
Marble Cathedral is a complex, water-filled cave located in the heart of General Carrera Lake in Patagonia, Chile. The sun reflects the water's blue color on the stone veins, creating a beautiful sight that makes anyone feel overwhelmed.
As the sun sets on Baikal Lake, the many ice-shaped caves in this Siberian cave are sunny. The road to this cave is quite dangerous, many adventurers have died on the way, but this is still a place of attraction for those who are willing to risk to admire the beauty of nature.
Son Doong cave is located in Quang Binh province, Vietnam, 9 km long, 150 meters wide, 200 meters high, is considered the largest cave in the world.
Thailand has many beautiful caves, attracting millions of visitors every year, including Phraya Nakhon Cave. Not only attracted by the majestic scenery, this large cave is also place where the Royal Pavilion was built in 1890, on the occasion of King Chulalongkorn's visit.
Antelope Canyon in Arizona, USA is considered one of the most beautiful areas in the world, with its cave structure twisted, the erosion of nature creating the beautiful strands. In particular, they always change the color under the action of the sun.
Khao Luang is Thailand's beautiful cave, with many Buddhist sculptures.
Cueva Ventana Cave is located on the limestone cliffs of Arecibo, Puerto Rico. Here, visitors will feel overwhelmed and enjoy the view of the Río Grande de Arecibo.
Cenote X'Canche is a system of underground caves located on the Yucatan Peninsula, Mexico. Guests can swim in the deep blue waters of the cave.
Whenever winter comes, Nyoro Nyoro Cave in Hokkaido, Japan is like a magical world because white beauty is made up of hundreds of thousands of tall pillars from the floor to the roof.
Kayaking through the ice caves in Valdez, Alaska, USA, is an activity that attracts visitors. The blue eyes of sea water shook the ice cave to create mysterious beauty.
This is an image inside the Fairy cave, located near the old gold mine in Bau district, Sarawak state, Malaysia
Seven-Star is a limestone cave in Guilin, China, lit by hundreds of light bulbs, creating magical, colorful colors.
The Naica Mine crystals in Mexico are overwhelmed by the huge crystals. This cave prohibits visitors for safety reasons.
By: Anna Lee