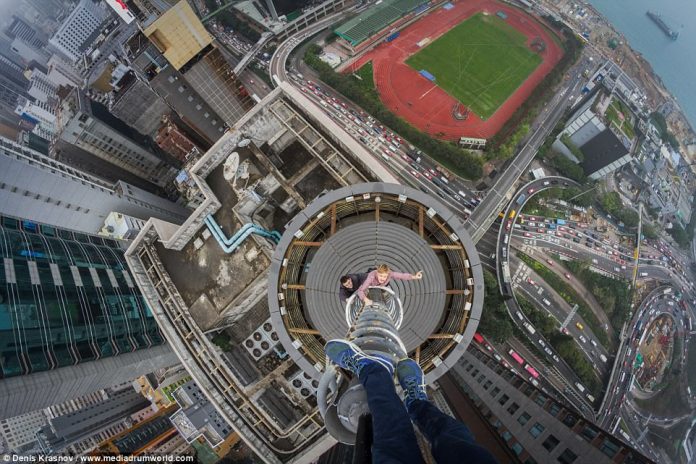 Denis Krasnov is considered a risky man when he climbs high-rise buildings without a protective device.
Images that dizzy the viewer were taken from the top of skyscrapers in Hong Kong (China) and New York (USA).
20-year-old Russian photographer Denis Krasnov and his friend climb to high-rise buildings in Hong Kong and take pictures.
The images in New York were taken by an anonymous photographer and SVVVK posted on Instagram.
They take pictures from skyscrapers without any protective equipment. In the photo, a man stands on a crane, looking over at a central park in New York.
Denis Krasnov reveals that he often travels to the mountains and quickly realizes his passion for aerial photography.
At first, he just climbed the low houses to take pictures, then he gradually increased the height of the buildings.
Before taking a picture, Denis Krasnov explores the architecture, security systems of skyscrapers and finds beautiful angles.
For Svvvk, taking pictures in New York is a very dangerous job, but he considered it a valuable experience.
Svvvk was repeatedly protected by the building, but he was able to accomplish his task of explaining and showing respect and courtesy.
Everyone in the family does not object to his dangerous work. "I do nothing beyond my limits, so I will not be in danger," Svvk said.
In case of danger or difficulty when shooting, the photographer will hold your hand, or stop. He said: "A photo is not worth a bite a life."
Behind each photo is a lot of effort taken by the photographer.
Just one step away, the photographer may lose his life.
A New York observer from the corner of the high-rise terrace.
Many people think that taking such pictures is too dangerous, joking with life, because risk can happen at any time.
Others think it's a way to experience life.
Others express admiration for their courage, ready to face the dangers to live their passion.
By: Anna Lee