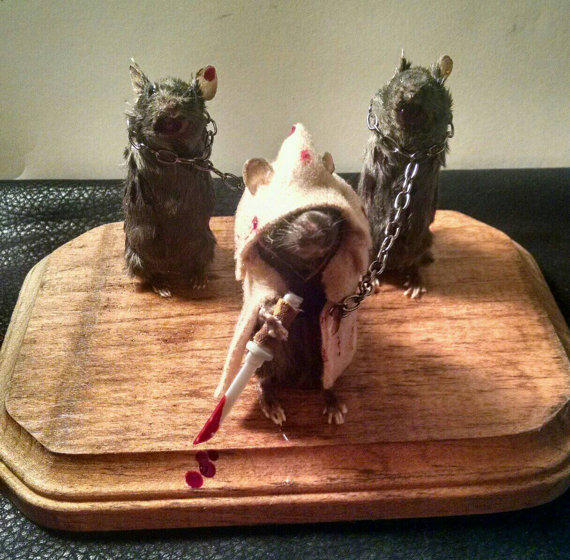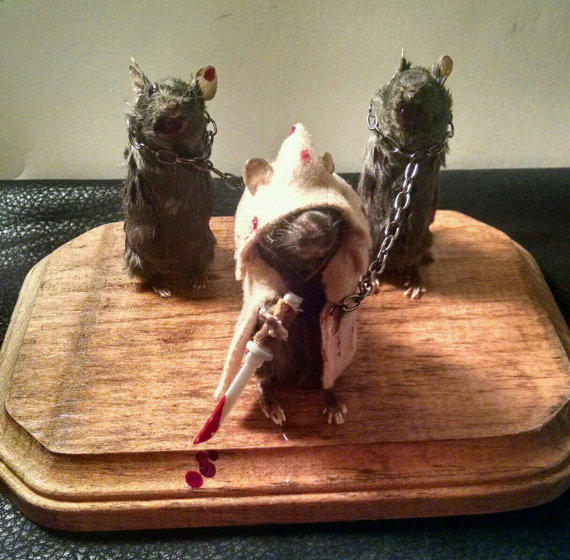 When a Walker closes in on your hiding spot, you better have some decent running shoes to escape being bitten.
But what if those pesky zombies happen to show up in rodent form? Do you offer it cheese and hope for the best? Do you send a cat after it? Or maybe it's best just to look for the nearest exit just in case.
Artist Rachael Garcia gives dead mice a second life as taxidermy versions of characters from "The Walking Dead."
While it may seem "overkill" to have a dead thing represent another dead thing, whimsical taxidermy creations are becoming more sought out by collectors wanting a truly unique piece of art whether it's Star Wars Jedi squirrels dueling with lightsabers or an amplified badger.
If you really want one, you can also get an entire chess set made with dead mice dressed as queens, knights and rooks.
Related stories
Zombie mug: The most hideously icky way to drink your coffee
More 'Walking Dead' seasons get their turn at 8-bit gory glory
'Walking Dead' Season 6 trailer shows a bloody, dangerous Rick Grimes
Garcia's "Walking Dead" mice — which are available to buy on her Etsy store — are not only a creative tribute to the popular zombie TV show on AMC, but they might even make you wish walkers came in rodent form.
"I am a big fan of both 'The Walking Dead' TV show and comic, so finding inspiration was easy," Garcia told Crave. "'The Walking Dead' has so many awesome characters to pick from."
"I started by picking my favorite characters from the show and then some of the scenes that I enjoyed most," Garcia said. "Then I remembered I was making them for other people to buy, so I picked what I thought would be the most popular among the fans — Daryl Dixon."
In addition to the taxidermy mouse of Daryl, Garcia also makes mice versions of "Walking Dead" characters Merle, Michonne and her "pets," and even the Little Girl Walker. Garcia's "Walking Dead" mice cost $60 (about £42, AU$85) each except for Michonne who is $75 (about £53, AU$106) since she comes with two extra mice "pets."
"My favorite one is the Little Girl Walker," Garcia said. "At the very first horror convention I ever did my best friend Natalie and I were doing press. We did a dinner interview with Addy Miller (the Little Girl Walker) and her mother. My daughter and Addy quickly became friends and ended up hanging out all through that show. When I started doing 'Walking Dead' pieces I knew I had to make Addy, her and her mother thought it was cute and had it sitting on her table at Walker Stalker convention for a bit."
"I plan to make more walking dead mice when I get a chance," Garcia added. "I would love to make more scenes with multiple characters in them. The newest season has had so many great scenes it is hard to choose which one to do next."
While taxidermy as an art form might seem odd to some, Garcia thinks there are plenty of collectors out there who love to buy dead rodents dressed as their favorite horror, sci-fi and fantasy characters.
"It takes a special kind of person to enjoy taxidermy art, and I have found that many 'Walking Dead' fans are those type of 'special' people," Garcia said. "Fans of horror are very accepting and excited about my delightfully deceased creations."
"I don't really mind that everyone doesn't like what I do, because the people that do love my pieces are always very excited," Garcia added. "Those people that collect them and give them as gifts is are more than enough to overshadow those that don't."
For those of you concerned where Garcia gets her mice, she assures us that she's not a mouse serial killer.
"I always like to mention that all of the mice I use come from a reptile food supply company," Garcia said. "They come to me frozen just like chicken from the grocery store. I personally think that being made into a cute 'Walking Dead' character is was better than being eaten by a snake."
Check out Garcia's "Walking Dead" mice and other taxidermy TV and movie character tributes from "Carrie," "The Birds," "Harry Potter," and "The Shining" in her Etsy store.
Garcia also makes custom pieces if any fans have ideas for her next taxidermy tribute. I'm keeping my fingers crossed for a "Ghostbusters" set of mice. Hint, hint.