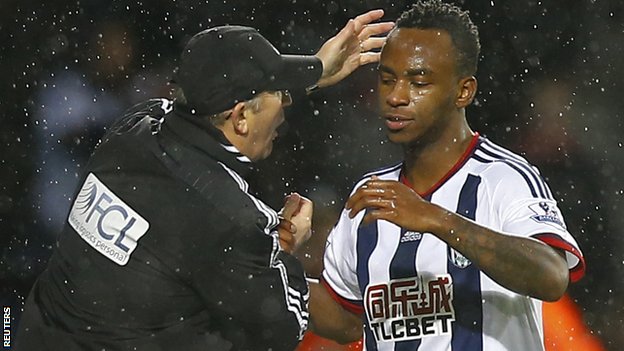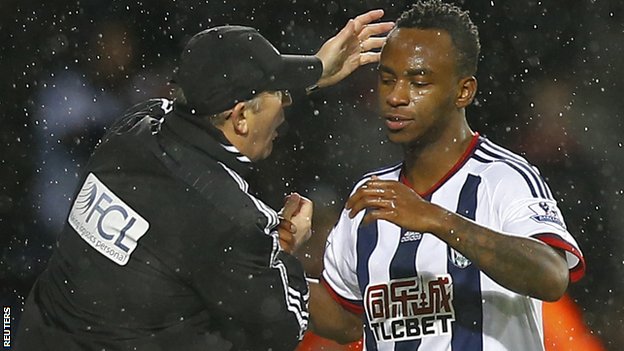 Saido Berahino's grievance is not with his manager Tony Pulis
It's a saga that has occupied two transfer windows.
One of England's most talented young forwards is waiting to see if his faltering career is going to be revived before the January transfer window shuts with a much-mooted transfer.
But is Saido Berahino really on his way out of West Brom?
Will he leave in January?
On balance, I don't think so.
The key to all this is the intransigence of West Brom's chairman, whose writ runs largest at the club.
Jeremy Peace has long been irritated at the attitude of bigger clubs as they cherry-pick precocious young talent from the smaller fry – in West Brom's case, Chelsea and Liverpool snapping up Izzy Brown and Jerome Sinclair respectively in recent years.
Those experiences led Peace to question what the point of West Brom actually having an academy was, as it seemed to operate just as a feeder.
Peace was angered at Tottenham's negotiating stance during the last transfer window, feeling there were too many complications – and that the supposed fee of £23m would take several years to be realised.
His hard-line stance may have frustrated Berahino – who threatened never to play for West Brom again – but many commended the chairman for sticking up for his club.
All about Berahino
Born: 4 August 1993, Bujumbura, Burundi
At the age of 10, Berahino travelled to England to be reunited with his mother, sisters and brother who had also fled their war-torn homeland
He joined West Brom's academy at under-12s, signing a professional contract in the summer of 2011
Berahino represented England at various levels after making his debut for the under-16s, and was part of the squad which won the 2010 Under-17s European Championship. He also played at the 2011 Under-20s World Cup in Colombia.
Berahino made his debut for West Brom in late August 2012, coming on as a substitute against Yeovil in a League Cup tie
Who has shown an interest in signing him?
This time round, Newcastle, Chelsea and Tottenham.
I understand Peace and the Tottenham chairman Daniel Levy have resumed their cordial relationship that was sullied in September. Both tough negotiators accept it was merely business.
The proposed fee remains a complication. All possible suitors are looking to pay less than £20m, given Berahino's inability to start many first-team matches this season.
But Peace believes the player's potential still justifies an asking price of more than £20m. His captain, former Manchester United midfielder Darren Fletcher, thinks Berahino is one of the most natural goalscorers he's played with – and Fletcher's known a few.
Crucially, despite all the speculation this month, West Brom have not received a bid. And Peace's stance hasn't altered. He doesn't want to sell Berahino unless it's a head-turning offer.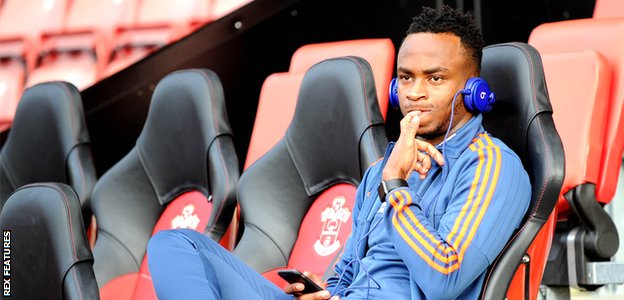 Berahino has come off the bench for nine of his 17 Premier League appearances this season
What does the player himself want?
To leave West Brom this month and it appears his preference remains Tottenham. Getting an England call-up last season broadened his ambitions.
His grievance is not with head coach Tony Pulis – whose score on the Saido's-a smashing-lad-ometer gets bigger every week. It's with Peace.
West Brom manager Tony Pulis on Berahino:
"The problem Saido has is in the way he's gone about it. He's not shown the respect to people around this club that he should have. It's unfortunate that Saido's been exploited by a system I've said I don't like and I think it should be changed." 11 September 2015
"He's nowhere near what he was last year physically or mentally. If he stays, you hope you get a Saido who realises the club and the supporters, who've been wonderful to him – need him." 23 December 2015
"He's lucky to be on the bench, never mind starting. He's a smashing kid but lets himself down at times." 28 December 2015
How keen are West Brom to keep him?
Very keen. Forget the whispers that his team-mates want shot of him.
Professional footballers are basically pragmatists and a fit, motivated Berahino improves the side.
He was player of the year last season and his team-mates would live with his idiosyncrasies if he could deliver again.
My view is that Berahino is the most natural goalscorer West Brom have had in the top flight since the days of Tony Brown and Cyrille Regis more than 30 years ago.
The chairman's bloody-minded enough to see this one through, even as far as the end of next season when Berahino's contract is up.
Peace is keeping a keen eye on the imminent tribunal ruling on Danny Ings' fee following his move from Burnley to Liverpool last summer. Liverpool are offering £4m, while Burnley want £10m.
Peace believes West Brom, having nurtured Berahino since he was 12, would deserve a tribunal fee of at least £10m to compensate for all the hard work developing Berahino's talent and recent aggravations. Peace is not known for blinking first when hardball's on the agenda.
Berahino's recent performances

Premier League 2015/16
Premier League 2014/15

Source: Opta

Appearances

17 (8 starts)

38 (32 starts)

Minutes played

802

2929

Goals scored

3

14

Minutes per goal

267.3

209.2

Shooting accuracy

63.6

53.6

Total passes made

210

774

Touches

353

1273
How will this go down with the fans?
It's difficult to generalise about a large fan base. Many are totally disaffected by Berahino and the accompanying baggage, yet in scoring 20 goals last season he won a few over.
If he helped West Brom have a good FA Cup run and consolidated a respectable place in the Premier League, memories would be selectively short.
Pulis would have no problems keeping Berahino in his squad. His problem would be lining up a replacement over the next few days.
I would have thought he and his recruitment team must go for someone by the middle of next week if Berahino is to get his move. Peace will not want a frantic trolley dash in the last hours of the transfer window.
So the clock is ticking. It seems to me Peace is in charge here – and he won't be bounced into anything by agitation from agents, clubs who want to do complicated, staggered payments or a young player who's got the hump.
In my opinion, it will be a refreshing change to the current tendency of big clubs getting what they want in the end.