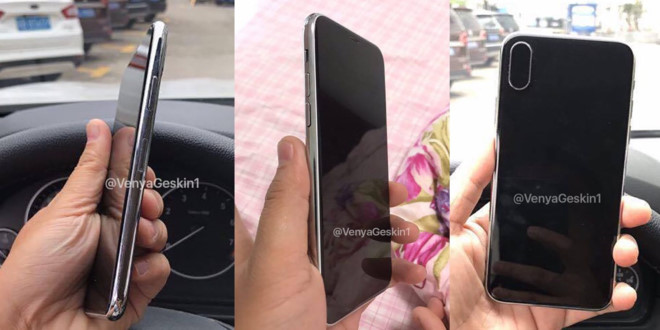 This template owns an overflow screen, no Touch ID on the back, and a super long power button.
In recent days, information about the iPhone 8 is constantly breaking new ground when a series of images sketched, leakage parameters are related, making people gradually began to imagine the iPhone 8.
On April 23, the image is considered a dummy unit of the iPhone 8 has appeared. Basically, this iPhone uses glass cover, stainless steel frame with overflow screen. The Touch ID sensor does not appear on the back so many people believe that Apple is trying to get it inside the screen.
These images are posted on the Twitter page of Benjamin Geskin. This is a complete CNC template, simulating the design of the product. It may not be Apple's last design yet, because most of the photos, Apple logo does not appear.
The most prominent feature on the back of this template is the dual camera cluster designed vertically. The camera cluster is large size, promising to bring many breakthroughs in terms of shooting capabilities. However, its aesthetic factor is not high.
If this design is true, it is very likely that the iPhone 8 will be criticized when launched. However, Apple is accustomed to this. The design of the convex camcorder on the iPhone 6 or the surprise of extending the iPhone 4S to an iPhone 5 has previously been the subject of netizens. However, then the users accepted.
Benjamin Geskin said the device is 7.1-millimeters thin and nearly identical in size to the iPhone 7. However, its screen will be overflowing, bringing a much larger display area.
On the side, it can be seen that the chassis is smoothly curved. It is quite similar to an iPod because of the gloss. The volume boost button and the vibration lever of the machine remain the same. Meanwhile, the right edge is where the power button and SIM slots are located. There, the power button is pulled out quite long.
Of course, it can not be confirmed that this is exactly the iPhone 8. It may be just one of the prototype Apple ever tested. Some sources claim Apple has not yet decided on the final design of the iPhone 8.
In terms of configuration, the iPhone 8 is equipped with a front camera with a 3D sensor, smart charging, 3GB of RAM and a 5.8 "OLED screen with a 521ppi pixel density. IPhone 8 can be launched together with two other models is the iPhone 7S and 7S Plus but after about 2 months.
By: Anna Lee