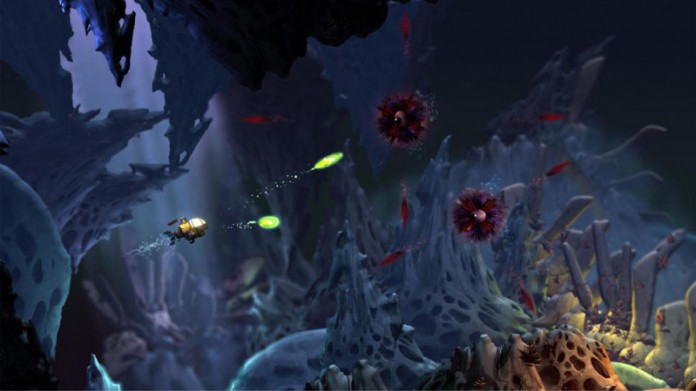 Insomniac Games–the studio behind Sunset Overdrive and the Ratchet and Clank series–will launch its newest game this spring, a 2D side-scrolling metroidvania called Song of the Deep.
Referred to as the studio's passion project by chief executive Ted Price, Song of the Deep follows 12-year-old Merryn on a journey to find her lost father. Her father told her stories of a world underwater–lost cities and schools of glowing jellyfish and forgotten treasures. Since Merryn and her father are poor, her father works as a fisherman, and every night Merryn waits on the shore with a candle to guide him home. When he doesn't return one night, Merryn cobbles together a tiny submarine and plunges beneath the waves to rescue him.
Throughout her journey, Merryn will uncover secrets of an ancient, forgotten race through music–and learn that she has more of a connection to the sea than she originally thought.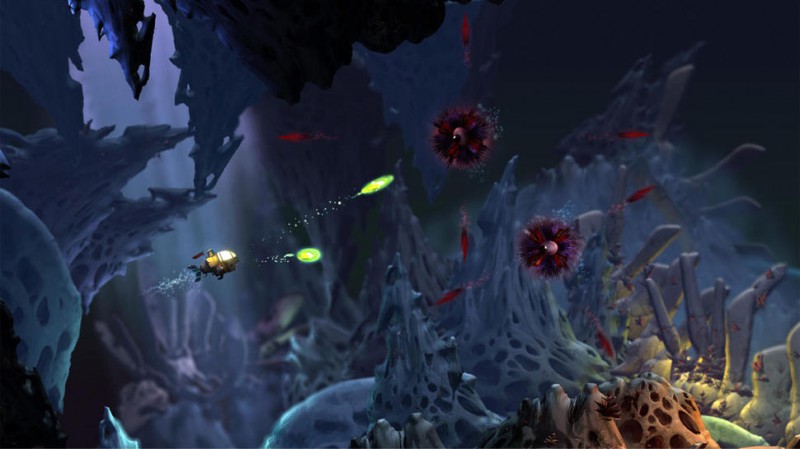 Song of the Deep's story is based on Celtic and Irish myths, and cutscenes are shown in static style, drawn like a picture book and stylized like a Studio Ghibli film. According to lead writer Brian Hastings, the team had several pitches for a game that utilizes submarines, but the final say on the setting and tone were chosen because "there's something magical about Ireland."
Whatever the true nature of that magic, Insomniac has visually captured it with Song of the Deep. It looks unlike anything from Insomniac up to this point–the soft lighting and vibrant colors, the floaty way you guide Merryn's submarine through tangles of undersea plants. Occasionally creatures like anglerfish and one-eyed anemones launch themselves at her sub, shooting lasers and whittling down her health. But Merryn's sub comes with a few tricks, including a hookshot, laser cannon, and a sonar wave that vibrates the waters around her and sometimes reveals hidden secrets.
Merryn can also upgrade these weapons by using pieces of ancient technology she finds. She will also collect tyne, a type of energy scattered throughout the world in the form of balls of light. This tyne will power up her lasers and allow her to move faster and take down enemies more quickly.
There are a handful of beautifully drawn cutscenes, but other than that, the story is told through Song of the Deep's environment. There are no talking NPCs, no data logs, just Merryn and her sub against environmental puzzles and giant boss fights. At times Merryn can also leave her sub to solve more intricate conundrums.
Song of the Deep has been in development for a little more than a year with a core group of 15 people. According to Price and Hastings, the team wanted to instill their passion for creating new worlds into something story-focused that inspired a sense of awe and wonder.
"We want it to feel like a children's science museum on an alien planet," Hastings said of the game's level design. "You can touch everything and see what it does, it's a fully interactive environment."
In my hands-on time with Song of the Deep, I threw balls of light into the mouths of giant clams to be rewarded with a pearl, and shone my sub's high-beams into hordes of angry jellyfish, barely squeezing by to grab the treasure at the bottom of a reef. I picked up a globe of light and watched a school of tiny fish follow on my heels, mesmerized by the glow. And when I wasn't tinkering with my surroundings, I was floating along, exploring, reassembling statues with my grappling hook to open gates that would lead me into new areas.
But it is Merryn herself who stands out the most in Song of the Deep. Merryn is small and wide-eyed with dark hair, a little girl with a big mission. She builds her submarine from scratch, dons her father's captain's hat and coat, and sets out to sea. As the head writer, Hastings was committed to creating someone unique, someone different from hero archetypes.
"She is not a sexy badass, she's not a skilled bounty hunter, she's not out for riches or revenge," Hastings said. "What makes her heroic is all within her. She's kind and smart and resilient, and most of all, she'll risk everything to find someone she loves. She's on a journey of courage, a reminder that we sometimes lose sight of what is best about ourselves. We value our accomplishments and our appearance but don't value what makes us heroic in our own right."
Hastings also revealed that he was motivated to create Merryn because of his 10-year-old daughter, who he was worried was becoming too superficial in her self-worth. She loves to do up her hair in interesting styles, and more and more she began pay attention to the more conventionally attractive characters in her media. Hastings didn't like this.
"I was thinking about my daughter and the games she likes to play," Hastings said. "Months ago, I read articles, the kinds of things you'll see in the Huffington Post or whatever, about how you shouldn't compliment your daughter and tell her she's beautiful. I thought, screw you, I'll tell her whatever I want.
"And I started thinking about it. She does get that a lot, she gets a lot of people complimenting her, 'your hair's so pretty, you look so beautiful,' and stuff like that. I saw her starting to internalize that. More and more she would worry about what she looks like. When she would watch movies or she'd read books she'd tell me about them, because she likes to tell me about the stories she read. She'd say, 'I like this character, she's so pretty,' I'm like, 'That's great, but that's not really what I want you to value about yourself, that's not really who you are.' It made me think about video game characters and how I want her to play a game where she sees heroes that aren't about being pretty, it's about who they are."
Song of the Deep will launch digitally for PlayStation 4, Xbox One, and PC later this spring for $14.99, and will also be released on a physical disc sold exclusively at GameStop. This is because GameStop is partnering with Insomniac to publish Song of the Deep, as well as support a full line of multimedia merchandise connected to the franchise.
Price said he's excited to work with GameStop in what he calls a "non-traditional developer-publisher relationship," because it means Insomniac gets to interact directly with consumers through the retail company. This also marks the first time GameStop is working as a publisher directly with a developer, rather than simply providing a retail outlet, and the company is planning to treat Song of the Deep as a "full AAA launch," according to GameStop Group global lead Mark Stanley.
With GameStop's help, Insomniac will publish a short novel through Sterling Publisher based on Song of the Deep. The book will be told from Merryn's perspective and include deeper details on the secrets she uncovers throughout the game. Its publication will coincide with Song of the Deep's launch.
"Today players want more from their games," said Price. "It's exciting for us as creators for the chance to flesh out this universe. Games have risen in cultural relevance and become a cornerstone of entertainment for our society."