The weather is turning truly Scottish and it feels plain wrong to be tiptoeing outside in nothing but swimming trunks. The temperature is just 6C and it's raining sideways. You'd survive only a few minutes in Loch Fyne before hypothermia kicked in, but thankfully, we're slipping into a heated infinity pool on its shores, steam coming off the water and jagged hills all around. At 33C, it feels gloriously toasty – from the neck down, at least – as I wallow and watch the wind scalp the white off the waves on the loch.
We're at Portavadie Marina, a resort on the west coast of Scotland, some 40 miles from Glasgow as the crow flies, but a circuitous two-hour drive. This is the largest heated infinity pool in Scotland, part of a new spa complex.
Portavadie was a village of just a few houses until the marina and resort were built in 2010 by the Bulloch family, one of the richest in Scotland. It's since become a destination for boating enthusiasts from around Britain. But even non-boat owners like us can come for a weekend by the water, in a beauty spot that can rival the Highlands.
Accommodation is modern and glass-fronted and comes in various shapes and sizes – self-catering apartments and cottages, an eco-retreat for two and hotel rooms in a slick block called the Lodge (sleeping two to four people). Doubles start at a pretty reasonable £77 a night B&B, including use of all the facilities, and apartments for six work out at a bargain £38 each a night.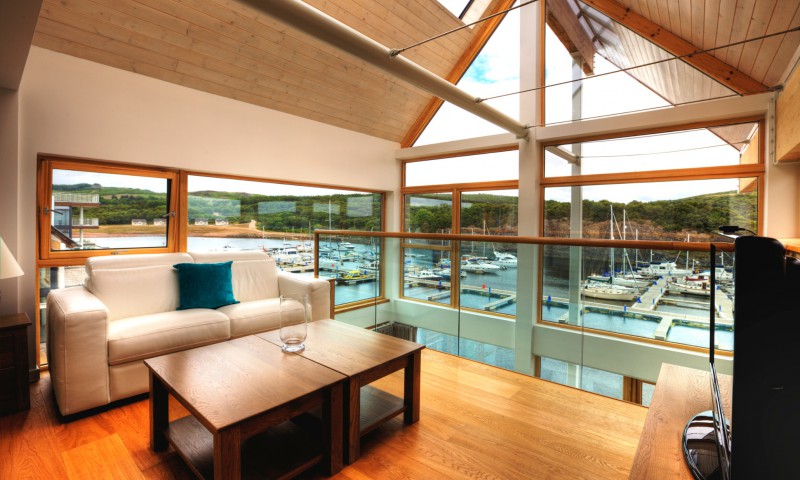 Our apartment, on the ground floor of a three-storey townhouse, is cosy with plush carpets, double glazing and underfloor heating in the bathroom. The living-room/kitchen has floor-to-ceiling windows on three sides to take in the views, a white leather sofa and massive telly we have no need for. The double bed is so big it's square, and inside the en suite bathroom there's a sauna we don't get round to using.
Guests had apparently been asking for more to do on site, and the owners have responded with a spa and leisure building, opened in August as part of a £10m development plan. It's quite small, with a 16-metre pool – that's just long enough to get some lengths in – but has a spanking new gym, sauna, Jacuzzi and a decent list of spa treatments. The star of the show, however, is the outdoor pool.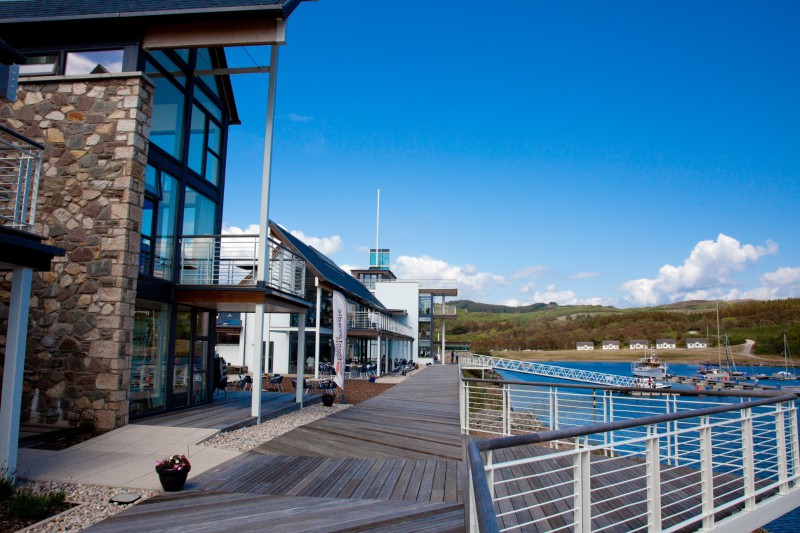 As you might expect, seafood figures strongly at Portavadie's two restaurants, the formal Marina and the Lodge Kitchen, where we head, with its sofas, board games and space for children to play. When we mention that we're a vegetarian and a vegan, our waiter, Valentin, is quick to offer suggestions: a local leek-and-potato soup and couscous with purple carrots to follow. Everybody else seems to have gone for fish and chips. It's posh pub grub, nothing spectacular, but it does the job. The restaurant is half-full, presumably because the apartments all have proper kitchens.
The next day, we hire mountain bikes from reception and take them on the 25-minute CalMac ferry ride across Loch Fyne to the adorable fishing village of Tarbert. The local chippy's reputation is confirmed by a reassuring queue out of the door. We take a speedboat trip on Loch Fyne, where, we are told, there are seals, porpoises and dolphins to spot, though none put in an appearance, sadly.
A 20-minute walk south from the marina – and well worth the trip – is Polphail, a spooky, derelict 1970s housing estate built for a workforce that never was, after plans for an oil platform construction port were abandoned. The graffiti-covered empty houses are a photographer's dream.
According to signs we spot on our journey home, Argyll is Scotland's "secret coast". But the Bulloch family are planing to expand further, so I doubt the marina resort will remain a secret for much longer.
• Accommodation was provided by Portavadie Marina, Loch Fyne, Argyll (doubles from £77 B&B, 01700 811075, portavadie.com)
Ask a local

Nick Ray, boat owner and sea kayaker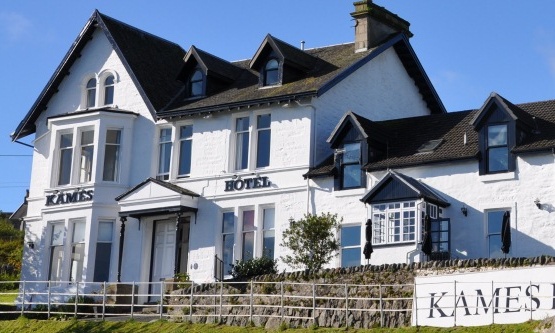 • Eat and drink
The Oystercatcher is a lovely place to have a meal, especially if you're a yachtie. It's fun to arrive by yacht and moor by the restaurant. I'd also recommend the Café Ca'Dora in Tarbert and the Kames Hotel, for a quiet drink – if the weather is good, sit outside and enjoy the views across to Bute.
• Walking
The Cowal Way or the Kintyre Way are both nearby. From the marina, there is a two-to-three-hour wander over the hill above Portavadie to an empty beach, which is good for spotting otters, seals and deer.
• See
The wonderful stunted oak trees growing in the broad-leafed woodland next to the marina.