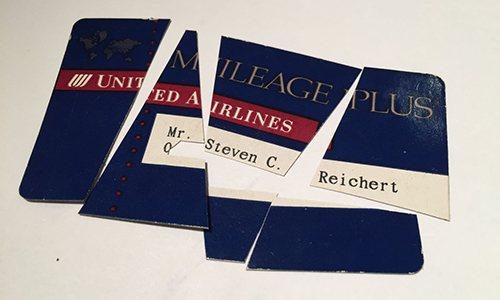 Credit cards and United Airlines membership cards were being mercilessly removed by passengers after a doctor was forced to leave the flight with violence.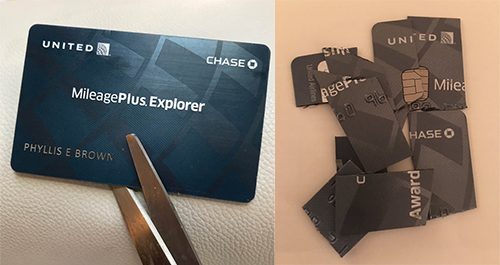 United Airlines credit cards were cut by customers. Photo: Twitter
The fact that a Vietnamese-American doctor was dragged off the United Airlines plane for refusing to give a way to staffs due to overbooking conditions caused public outcry and led to a boycott of American Airlines the airline.
Aninda Sadhukhan used her paper shredder to break United MileagePlus Explore credit card linked to Chase Bank after canceling the account on April 10.
According to Fox31, Sadhukhan works as an auditor in Indianapolis city, Indiana, and regularly travels by United Airlines. He has had much unhappy feelings about the airline over the years, such as credit card rewards or bad experiences on the plane.
Violent behavior with Dr. David Dao urged him to make a decision to cancel the card.
"These bloody images have exceeded my limits," said Sadhukhan, 35 years old. "Taking this card is the first step to help me feel responsible for not flying with United Airlines."
Other customers using their credit cards also chose the same method to express their anger.
"Cut off my United Airlines credit card in protest of their recent rude behavior with a legitimate paid passenger. Please do the same," Phyllis Brown wrote on Facebook.
"Just because a member of the crew is on board, a passenger who has been paid is forcibly removed, so I will cut off my credit card," she added. "My children are living in Africa, but I will look for other airlines to fly."
Some even cut their regular flight cards to protest against United Airlines.
"Cut my regular United Airlines flight card and never fly with this airline again," wrote one on Twitter.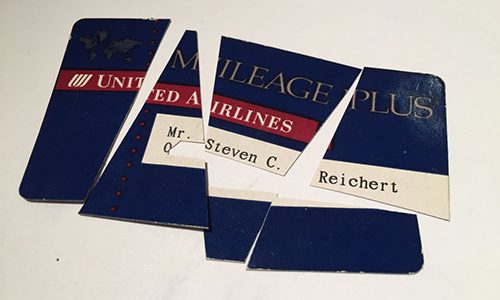 A passenger cut off the regular United State card into many pieces.
"I think customer protection in case of overbooking on a flight needs to be looked at." It seems that customers have very few places to rely on them, "Sadhukhan said.
"The horrible thing that happens on the flight makes many of us feel offended, angry and frustrated, and and I apologize profoundly for what has happened." Says Munoz. "We will be responsible and correct mistakes, I promise we will serve better."
Earlier, Munoz issued a statement describing the incident as "sad" and apologized "for having to rearrange" the passengers. However, he still defends the flight crew's behavior and claims the male doctor is "disruptive and aggressive", "challenging the Chicago Air Security personnel."