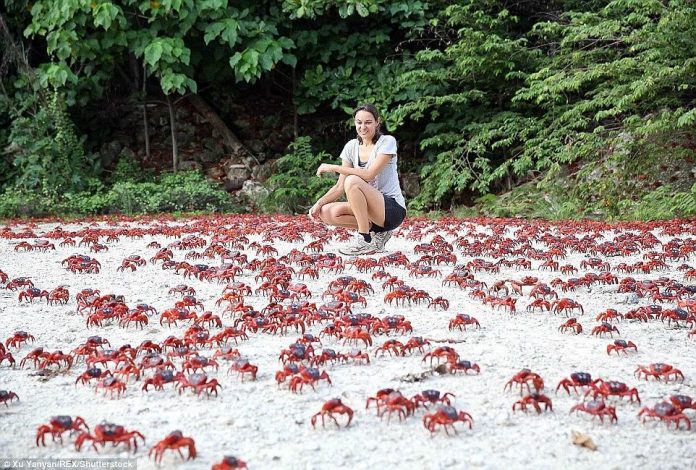 A village full of foxes, the island in the United States with wild horses are attractive destinations for animal lovers.
Zao Kitsune Village, Miyagi Prefecture, Japan, is home to more than 100 wild foxes, belong to six species.
The Japanese believed that foxes have the capacity for mystery, bring good luck. Visitors to the village pay about $ 5 to play and feed foxes.
Rabbit Island, officially named Okunoshima, is located off the coast of Hiroshima, Japan. This is home to hundreds of wild rabbits but it's easy to get along with and friendly, especially with feeders.
No one can explain why there are so many wild rabbits on the island. However, many people argue that their ancestors were the objects used to test war poison in the period 1930-1945.
Christmas Island, located in the Indian Ocean, is home to more than 43 million red crabs. In the breeding season, millions of crabs begin their journey "to the sea." During this time, the island government closed several routes to ensure their safety.
Situated on the Eil Malik Island in the Palau Archipelago (Philippines), the Jellyfish Lake is home to more than a million jellyfish. Hundreds of years ago, Sesame Lake connected to the ocean, but as the sea level dropped, jellyfish stuck and began evolving to adapt to isolated habitats.
Living in an environment not facing natural enemies, jellyfish begins to multiply. Guests can swim with them without fear of being bitten.
Tashirojima Island in Miyagi Prefecture, Japan is known as the cat paradise. Residents on the island are only 100 people, while the number of cats is many times higher. Cats are loved by the people and believe that they bring good luck. They also contribute to kill the mouse on the island.
Assateague Island (USA) is home to more than 300 Chincoteague horses, a small wild horse that is thought to have survived the shipwreck.
Monkey Forest Ubud, Bali (Indonesia), is home to more than 600 monkeys. In the forest there are many ancient Hindu temples built in the 1350s. This is a very popular touristdestination in Indonesia.
On an uninhabited island in the Bahamas, there are wild boar pigs. Visitors can reach the area by boating to feed the pigs and play with them.
Nara City (Japan) has more than 1,200 deers. Local people see deers as sacred animals and they are free to walk on the street. Tourists can now buy biscuits for deers.
Canada is home to about two thirds of the polar bears worldwide, including the most at Hudson Bay in Churchill, Manitoba. Tourists can be exposed to the bears on Tundra Buggy dedicated vehicles.
Kauai Island in the Hawaiian Islands (USA) is home to thousands of wild chickens. The origins of the chickens are still a mystery, but they are very beloved for helping local people to kill poisonous stingrays.
By: Anna Lee