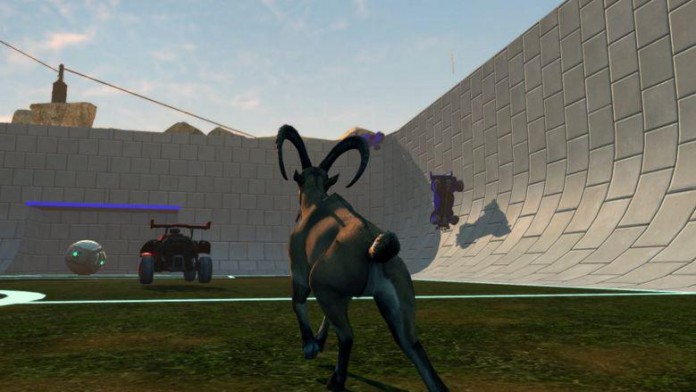 Rocket League and Goat Simulator are together at last. Goat Simulator developer Coffee Stain Studios has added a Rocket League-inspired game mode to Goat Simulator's recently released Payday expansion.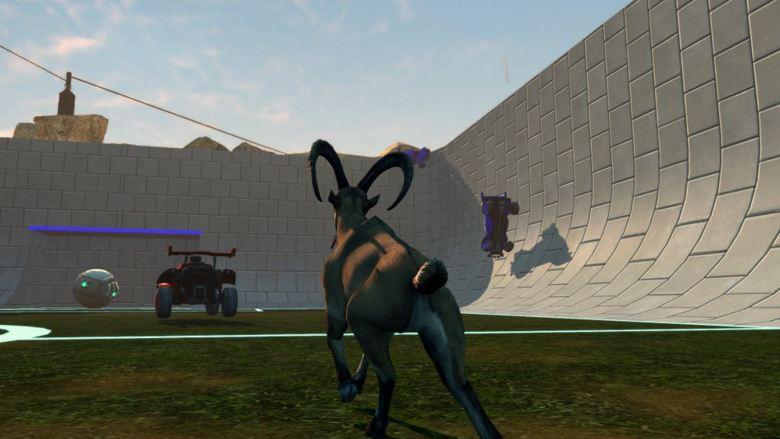 As you can see in the image above, a Rocket League-like arena has been built inside of Goat Simulator, complete with battle cars, goals, and the ball itself–using assets provided by Rocket League developer Psyonix. The cars are AI-controlled and meant to simulate how they operate in Rocket League.
But why bring Rocket League to Goat Simulator in the first place?
"Because why the hell not," Coffee Stain game designer Armin Ibrisagic said on Twitter. "pls don't sue."
Speaking with GameSpot, Ibrisagic shared the story of how this came to be.
"Basically, we had a programmer who thought it would be really fun to program an AI for cars that was very similar to the AI used in Rocket League," he said. "Once the AI was done, we got in touch with the peeps behind Rocket League, they sent some assets over to us, and we patched it into the latest Payday DLC. If you own the DLC, you can find a Rocket League arena in the desert outside the 'Payday city.'
"We just did it for the lulz."
The official Rocket League Twitter account even put out a message of support for this surprising DLC.
Nice! This is awesome, @Coffee_Stain! https://t.co/Pv5nIhtv1E

— Rocket League (@RocketLeague) January 27, 2016
Rocket League was one of 2015's biggest gaming success stories. Developed for PS4 and PC on a budget of $2 million, the game has generated nearly $50 million in revenue. It comes to Xbox One in February, though a specific release date for that version has not been announced.