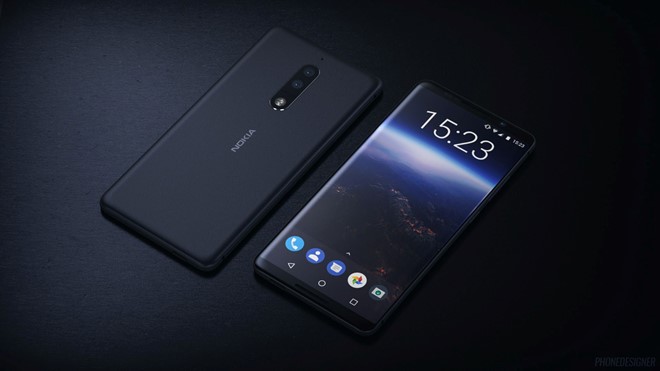 This device owns a bezel screen, with the top and bottom edges almost disappearing altogether.
Nokia will sell three Android smartphones globally but that's just three of the mid-range phones, considering the current standard. However, many sources recently confirmed the existence of high-end mobile phones is cherished by HMD Global.
Specifically, the Nokia 9 can be class devices to compete with Galaxy S8 and iPhone 8. Few days ago, Nokia poweruser released a technical specification of Nokia 9, making every devices today are jealous, including Galaxy S8.
So far, an image that is considered a technical drawing of the phone has also been revealed, showing that the design of this product can also eat off Samsung's blockbuster phones.
If the recent photos and previous information are correct, Nokia 8 and Nokia 9 will be a trump card in the high-end mobile group of HMD Global. According to this drawing, the Nokia 9 owns a bezel design with a Home button and a fingerprint sensor on the back, beneath the dual camera cluster. This setting seems to make users use it much better than the Galaxy S8.
On the other hand, the Nokia 8 seems to be a cheaper version with a larger top and bottom bezel than the Nokia 9. The back camera is still a dual camera, but the flash setting is slightly different.
Nokia 9 may be equipped with iris scanner, QWD OLED screen size 5.5 inches. Other specifications include a Qualcomm Snapdragon 835 processor, 6 GB of RAM, optional 64 or 128 GB storage, a 3,800 mAh battery that supports Qualcomm Quick Charge 4, IP68 water resistance and Android 7.1.2 Nougat. .
Not to mention yet, the Nokia 9 will focus on the camera and audio experience with the Carl Zeiss 22-megapixel sensor on the back, 12-megapixel front camera. This may be the first smartphone to support Nokia OZO audio technology.
According to Nokia, this technology offers an optimized 3D audio experience for headphones and multi-dimensional audio systems.
On price, the device is racked up for $ 699 in the US, according to the NPU. However, the launch time of the machine is still in secret.
By: Anna Lee