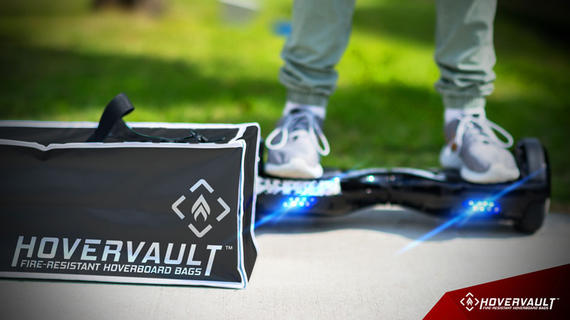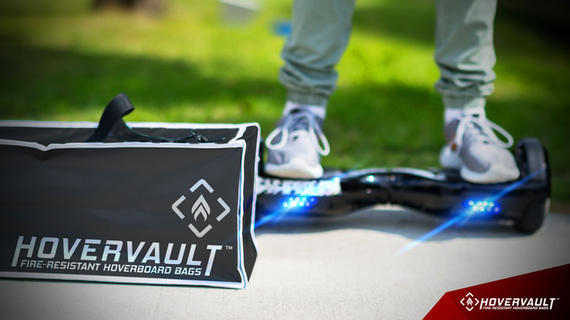 I get it. Those two-wheeled personal scooters that are popularly known as hoverboards look like a heck of a lot of fun, and they're as close as most people will ever get to having a real hoverboard. It's no wonder consumers want to keep them despite a spate of reports of fires related to defective batteries.
If you're concerned about your hoverboard, but don't want to trash it, you might look into a Hovervault, a fire-resistant hoverboard bag built to contain a fire should it happen. The bag is made from a woven fiberglass composite. It's essentially a larger version of existing bags made to transport lithium batteries for drones.
Hovervault is clear that the bag won't stop hoverboards from combusting like a Spinal Tap drummer. "The Hovervault will help prevent further damage caused by a battery fire, not prevent a fire from happening," the company notes in a FAQ.
Related stories
Hoverboard unboxing video ends in a fail of fire
Before you even think of buying a hoverboard, read this
New battery design could keep hoverboards from catching on fire
The bag can be used while the hoverboard is charging or being stored or transported. Even with a Hovervault, you still won't be allowed to take your hoverboard on a plane.
Not every newsworthy hoverboard fire has happened while the scooter was tucked out of the away. A memorable video from January shows a hoverboard unboxing video taking a turn for the fiery worst when the machine goes up in flames during an attempt at a test ride. The Hovervault won't help in a situation like that.
Reports of fires gained steam throughout 2015. In the US alone, there have been at least a dozen hoverboard-related fire investigations as of December, 2015, according to the US Consumer Product Safety Commission. A severe house fire in Australia earlier this year was traced back to a hoverboard that was plugged in to charge.
The Hovervault is available to preorder with international shipping from Australia set to start in March. The Hovervault sells for a preorder price of AU$49.95, which works out to about US$36 or £25. That's not a crazy price to pay for a little added peace of mind in an uncertain world.