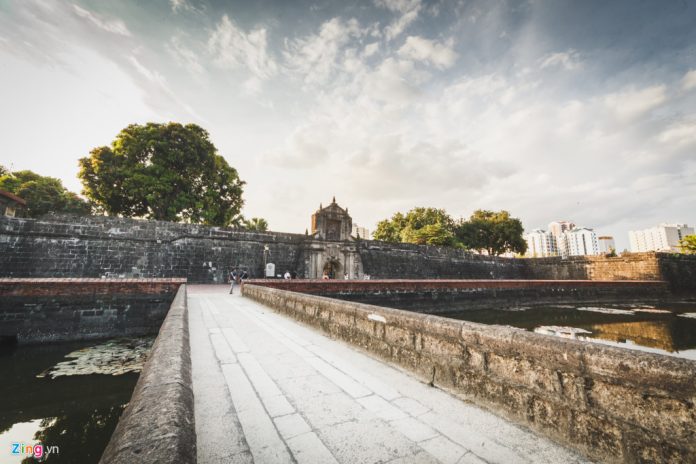 Fort Santiago, a historic witness to the Filipino struggle for independence, is now a popular touristdestination in the capital, Manila.
In 1571, when the Spanish colonialists came to rule over the Philippines, in order to counteract the indigenous resistance, they built a 64 hectare defensive area in the ancient town of Intramuros, a prime location. At the mouth of the Pasig River flows into Manila Bay.
Initially, the building was built of wood and earth, surrounded by deep ditches. By 1574, after the attack by Limahong and indigenous people, the fortress was destroyed. Later, the Spanish rebuilt the 10 m thick stone fortress between 1589 and 1592.
The fort was demolished after the earthquake of 1645, undergoing several attacks and occupations by the United Kingdom, the United States and Japan. The main gate was rebuilt as it was destroyed almost completely during the final phase of World War II. Above the main entrance is a carved picture of St. James, a guardian deity of the Spaniards.
The darkest period in the history of the fort was in World War II, when the Japanese occupation of Manila occupied Manila. They tortured and executed many Filipino and American prisoners.
Some reports estimate that 2,500-3,000 Filipinos were killed there in the last days of the Japanese occupation.
Also in this battle, especially the famous Manila battle, US troops attacked the city, killing more than 16,500 Japanese entrenched in the city.
Thus, the fortress of Santiago in particular and the whole of Intramuros in general, witnessed to how many wars, the fall of many people, belong to all nations.
Apart from being a military base, Santiago Fortress also served as the prison of Dr. José Rizal, the national hero of the Philippines. During his days in captivity, he wrote "My Last Farewell", "Noli me Tangere" and "El Filibusterismo" meaning waking up the various strata of the people struggling for national independence.
On December 30, 1896, José Rizal was executed by the Spanish ruling regime, and after that, the violent movement intensified, leading to the Republic of the Philippines in 1898. Now, in the fortress of Santiago, people restore the steps of José Rizal when sent from detention to legal training.
In addition, the government of the Philippines also built the museum José Rizal located right inside the fort, preserving his belongings and merit.
Inside the fort, visitors can easily encounter stone statues, reproduce colonial-era Spanish colonial soldiers, or celebrities in Philippine history.
Tickets to visit the fortress is 150 Philippine pesos / person.
On some evenings of the week, Americans often enter fortresses, tell stories about the history and politics of the Philippines and the United States, attracting a large number of visitors.
After visiting Fort Santiago, you can tour other ancient European buildings in the ancient city of Intramuros by horse drawn carts.
… or tricycle.
By: Anna Lee