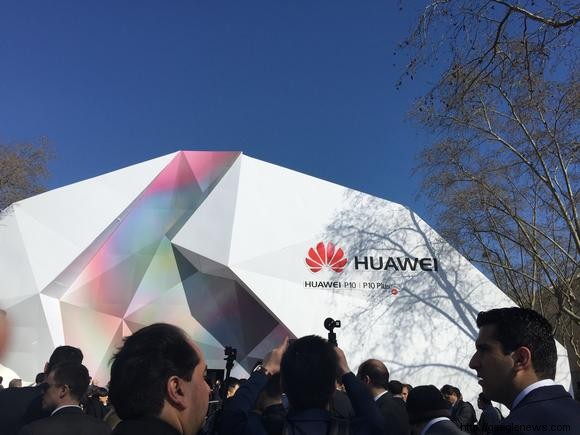 March 9, 2017 1:20 pm JST
Huawei, Asian rivals take their battle to Mobile World Congress
Barcelona trade show offers chance to win over Europe's smartphone users
CHENG TING-FANG, Nikkei staff writer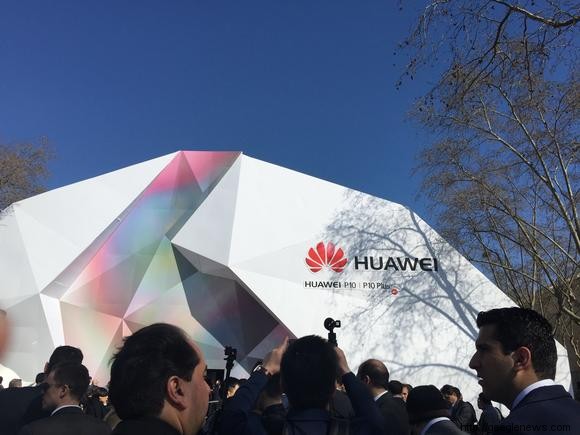 The Huawei pavilion draws a crowd at the Mobile World Congress in Barcelona. (Photo by Cheng Ting-fang)
BARCELONA, Spain — Chinese smartphone company Huawei Technologies is now a global crowd-puller.
The day before the annual Mobile World Congress kicked off in Barcelona in late February, visitors from all over lined up outside Huawei's pavilion, not far from the city's Magic Fountain. They were waiting for a glimpse of the latest handset from the world's No. 3 smartphone brand by shipments.
Richard Yu, the chief executive of Huawei's consumer electronics group, took the wraps off the premium P10, which features Leica camera technology and sophisticated chips from the Chinese company's own semiconductor unit. Huawei hopes the new phone will help cement its presence in Europe — increasingly a priority market for Asian players.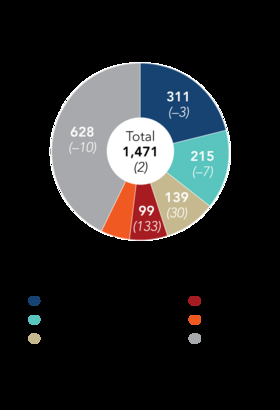 Close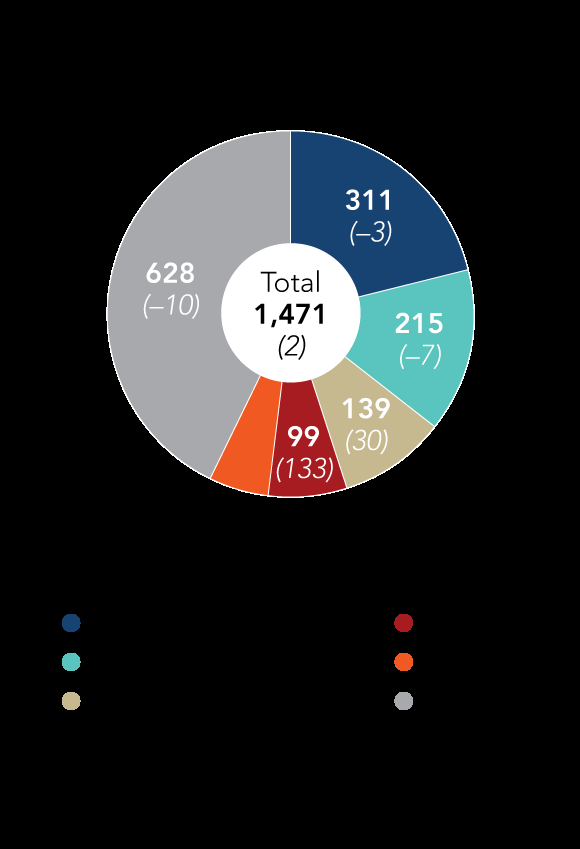 Despite the impressive turnout at the unveiling, Yu conceded that his company faces mounting challenges this year. "For 2017, we are seeing very fierce competition," he told the Nikkei Asian Review. "We are not setting any target for shipments for the year ahead, and we will focus more on ourselves to sell as many [phones] as possible."
Yu's guarded comments came as Huawei finds itself squeezed between domestic rivals Oppo and Vivo, not to mention Apple, which is set to launch its 10th anniversary iPhone in the second half of this year. Huawei sold 139 million smartphones in 2016, coming up short of its original target of 140 million.
Oppo and its sister brand, Vivo — the world's fourth- and fifth-ranked players — together controlled 31.6% of the Chinese market last year, thanks to heavy investment in bricks-and-mortar stores in lower-tier cities, according to research company IDC. Huawei had a 16.4% share in the country, while Apple mustered just 9.6%.
While beating up on one another at home, the three Chinese manufacturers all posted strong global growth rates for 2016. Huawei's shipments increased 30%, while Oppo's surged 133% and Vivo's rose 103%. This left them with market shares of 9.5%, 6.8% and 5.3%, respectively.
Samsung Electronics and Apple, the top two, saw year-on-year declines in 2016, according to IDC.
Flocking to Europe
Jim Xu, president of sales and marketing at Huawei's consumer business group, said he foresees only a flat market in China in 2017, with limited upside for global handset sales. He warned that the market conditions could push some players to withdraw.
To compensate for the slowdown at home, Huawei has turned to the global market and made great strides in Europe, in particular. It holds a roughly 15% market share in Western Europe and Africa, and around 20% in northeastern Europe.
Huawei's Continental success has prompted other Chinese brands to follow in its footsteps. Oppo has been investing heavily to raise its European profile, though it did not showcase a new handset at the MWC. One of its strategies for corralling European consumers centers on fitting advanced cameras with 5x zoom capability into even very slim handsets.
Smaller Chinese manufacturers, such as Gionee Communication Equipment and Hisense International, set up sizable booths at the MWC in the hope of boosting their brand recognition.
Ian Ferguson, vice president of SoftBank-controlled British chip designer ARM Holdings, recently told the Nikkei Asian Review that among his company's customers, Chinese ones were expanding the fastest. Ferguson said the China portfolio is important for ARM, due to the country's vast market as well as Chinese brands' international ambitions. ARM's microprocessor architecture powers more than 95% of the world's smartphones.
Other Asian smartphone makers, too, chose the MWC to show off their latest gadgets. South Korea's LG Electronics and Japan's Sony Mobile Communications both introduced new flagship phones.
Samsung — a star of the show in the past — was an exception. The troubled South Korean titan held back from releasing the new Galaxy S8, as it is taking a cautious approach after being forced to discontinue the fire-prone Note 7.
The S8 is expected to be unveiled at the end of March.