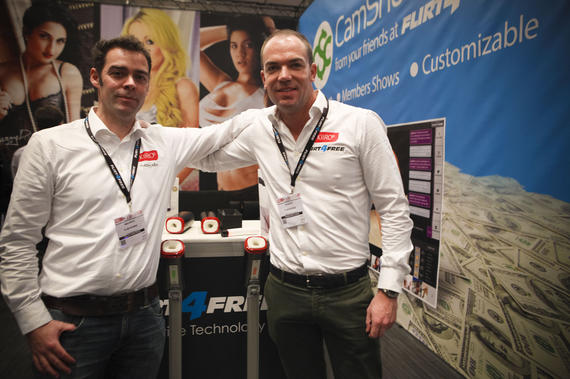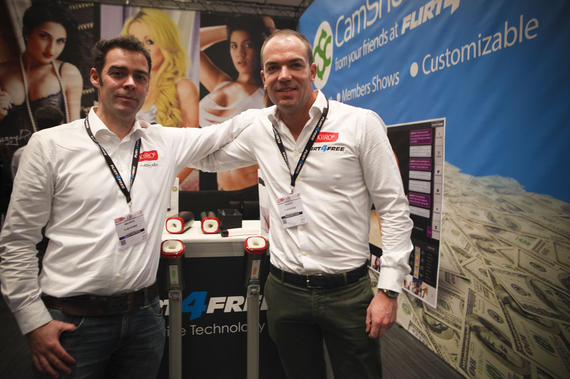 Robert Doornbos and I are sharing a moment.
Standing about a foot away, the bald, tall and pretty frank Dutchman strokes a lily white rubber dildo that, via the magic of the Internet and a smartphone, syncs up with a fleshlight — think flashlight lined with silicon made to feel like… well, you know. When he grips it, the fleshlight gets tighter. When he rubs it, the insides moved.
Doornbos, a former professional race car driver, is the co-founder of Amsterdam-based Kiiroo, which has spent the last two years figuring out how to marry the latest technology in computers to re-create the feel of human touch without having someone else actually there.
"We added the third dimension of touch to the Internet," he tells me from the show floor of the AVN Adult Entertainment Expo in Las Vegas, where I'm spending the week trying to understand how technology is changing our sex lives.
Doornbos's company is part of that changing landscape. His devices don't just interact with each other, they also synchronize with porn videos to give people a sense of actually participating in the action. The dildo, dubbed the Pearl, costs $149. Its counterpart for men, the Onyx, goes for $249. Together, they're $360. You can order them from the company or even on Amazon (If you'd like to see what they look like, the company's site has plenty of photos.)
Related Articles
Can virtual reality get you to pay for porn again?
VR porn lends a hand. Masturbation will never be the same
I'm no longer a VR porn virgin (slightly NSFW)
Will virtual reality make you buy more? Retailers are betting on it
Live VR not ready for prime time
Not ready for its close-up: Virtual reality makes presidential debate virtually unwatchable
Adult entertainment may sell itself as a fantasy, but the next frontier is bringing you into the fantasy too. Until now, that's meant stuff like sex toys designed with traits of popular porn actors, like a specially designed sex toy or a dildo made from the mold of your favorite fantasy man.
Along with porn companies' recent embrace of virtual reality, we're now on the verge of simulation itself: bringing the action to you, either through devices like Kiiroo or others like the Irena I made by Realov, which bills itself as a smart vibrator. Touch a smartphone running a special app, and Realov responds from anywhere in the world.
The technology is called haptic communication, and it springs from Silicon Valley's decades-long efforts to teach computers to sense a human touch. Video game companies have been giving players a sense of movement via vibrating controllers since the 1970s. But thanks to mass production of phones and tablets from Apple, LG and Samsung, haptic technology has become cheap, ubiquitous and accurate.
Now the adult entertainment industry is getting in on the game, and it could become big business. Adult stores already rake in $1.4 billion in sales each year, according to market research firm IBIS World. It's also a growing part of the industry, unlike porn video sales, which are expected to remain stagnant for the next few years.
Movies like "Fifty Shades of Grey" and popular TV shows like "Sex and the City" have helped bring adult toys into the mainstream. Even drug stores like Walgreens sell vibrators.
The next step is coming from porn studios, which are already beginning to sync up videos to work with smart sex toys.
The benefits don't have to be reserved for fantasy, however. Jamy Lomento, consultant at New Jersey-based online adult shop My Personal Pleasure, said the devices could also help couples in long-distance relationships.
"It keeps people connected, keeps relationships strong," she says. "I applaud it."
Another area these toys have potential is in the webcam business. Think: Digital strip clubs where performers satisfy paying customer's requests over a live-stream.
Jonathan Buckheit, CEO of Friendfinder Networks, says his company's webcam site has just began working with sex toys. Soon, these toys will also become part of his dating site too, allowing partners to have sex without even meeting.
Joe Walla, senior sales manager at National Video Supply, a Los Angeles-based sex toy wholesaler, says business these days is booming, in part because of the new Internet-connected devices.
Still, speaking from his booth where he had more than a few toys on display, Walla takes the long view on the new tech.
"Nothing is going to replace a penis at the end of the day," he says. "We get some of these products that are just wild, but the penis will still be the product that everyone wants."