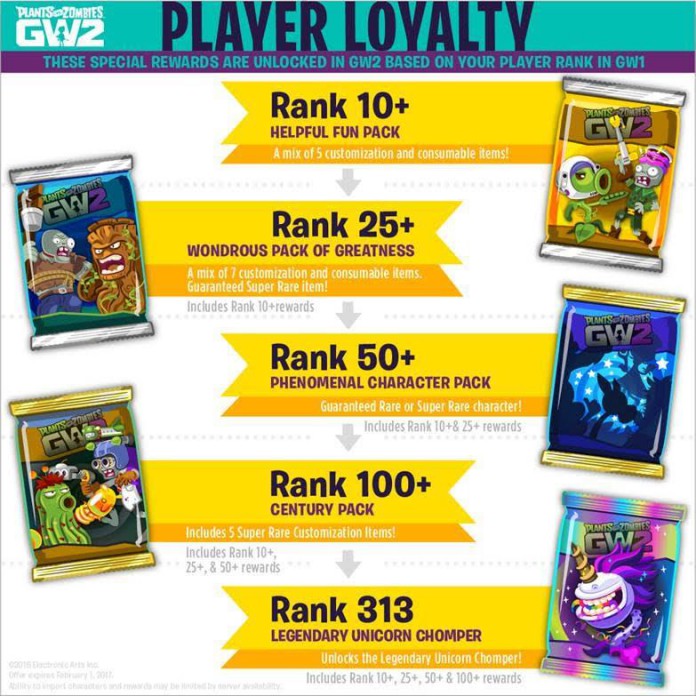 In addition to letting you transfer unlocks from the previous game, Plants vs. Zombies: Garden Warfare 2 will also reward you depending on the progress you were able to make in its predecessor.
PopCap Vancouver today outlined the player loyalty rewards for its upcoming shooter. These amount to various freebies in the form of card packs that are handed out for having reached specific ranks in the original Garden Warfare. These include customization items and rare characters, as well as a special version of the Chomper for the most devoted of fans who made it to the level cap of 313.
Here's what awaits Garden Warfare veterans, as explained by EA:
Rank 10 or higher: Receive a free Helpful Fun Pack.
Rank 25 or higher: Receive a free Wondrous Pack of Greatness.
Rank 50 or higher: Receive a free character unlock.
Rank 100 or higher: Receive five Super Rare customization items with a 'glowing' effect added to them for good measure.
Rank 313: Last but not least, players who reach will receive a 313 Max Pack that includes a legendary character–the Unicorn Chomper and Unicorn Warp ability. Because what's not to love about a warping Chomper?
Assuming you log in to Garden Warfare 2 with the same account you played the original on, you'll be able to retrieve your rewards by heading to the in-game mailbox. From there, you'll be able to import your progress, granting you the applicable rewards and, as previously announced, granting access to most (or all) of the characters you unlocked in Garden Warfare.
A Garden Warfare 2 beta recently wrapped up ahead of the game's release on February 23. Those who preorder will receive a Mass Effect-themed character and other customization goodies.