Let me tell you about a place I know on this little Caribbean island, called Loterie Farm. No, it's not one of the many casinos, but rather a magnificent eco-tourism venture next to Pic Paradis hill, which is the highest peak on the island.
The 135-acre Loterie Farm has deep roots in Saint Martin and it was initially won in a land lottery in the 1700s, hence the name. The area was called Loterie Plantation until the mid-1800s, when slavery was finally abolished. It did a stint as a dairy farm until the late 1960s, when it was more or less abandoned and left in disrepair.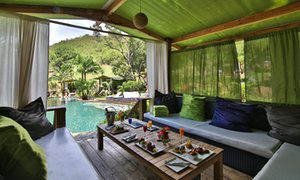 Skip to the 1990s and William Welch, a friend of then owner Nelly Fleming Engle, walked onto the property with a dream to make Loterie Farm the centrepiece of Saint Martin's holiday industry via a fairly new concept (at the time): eco-tourism. The estate was transformed and now there are hiking trails, treetop adventure courses, three eateries and bars, and a superb pool area – great for all ages. Go and visit, you won't be disappointed.
•Julian Prince, founder, SXMusic festival, which takes place 9-13 March