As real-world sports/games go, golf is not considered to be very dangerous. But a new golf game from the founders of Burnout studio Criterion is positioning golf as a very perilous game.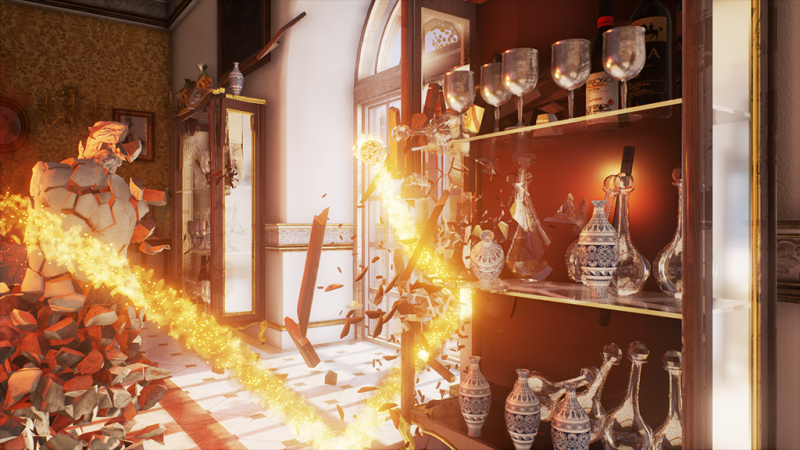 Three Fields Entertainment, the UK studio established in 2014 by Criterion founders Fiona Sperry and Alex Ward, has announced Dangerous Golf. "This isn't your average golf game," the developers said about it.
Dangerous Golf is described as an "irreverent, silly, fun approach to golf games that challenges players to break the rules and wreak havoc." There are four locations in the game and 100 holes.
"It's as serious a golf game as Burnout was a serious simulation to driving games," Three Fields said. "We wanted to mix the attitude of Burnout with the destruction of Black (a 2004 first-person shooter from Criterion) whilst setting the golf ball on fire–a nod to NBA Jam. This type of gameplay is part of our DNA, and something we think our fans will truly enjoy."
Unlike real golf and other golf games, Dangerous Golf challenges you to rack up the most "dollar damage" instead of a low score. You'll do this by turning your golf ball into a bomb and detonating it to destroy objects as part of a "SmashBreaker."
"Destructive powers increase as the ball heats up, ensuring that the most elaborate shots are not only the most rewarded, but the most impressive to watch," the developer said.
Dangerous Golf's four locations are a hotel kitchen, a palace ballroom, a rural gas station, and a medieval castle. As you can see in the images above, a lot of damage can be done in these places.
Though it's clearly a silly game, Dangerous Golf uses Epic's Unreal Engine 4 and some Nvidia technology to "push the boundaries" as it relates to destruction and physics.
Dangerous Golf is set to launch in May for PC, Xbox One, and PlayStation 4. Pricing was not announced.
Sperry and Ward founded Three Fields in 2014 after they left Criterion and Electronic Arts, which acquired the studio in 2004. In addition to Dangerous Golf, Three Fields has another, unannounced game in the works.
What do you make of the concept for Dangerous Golf? Let us know in the comments below!