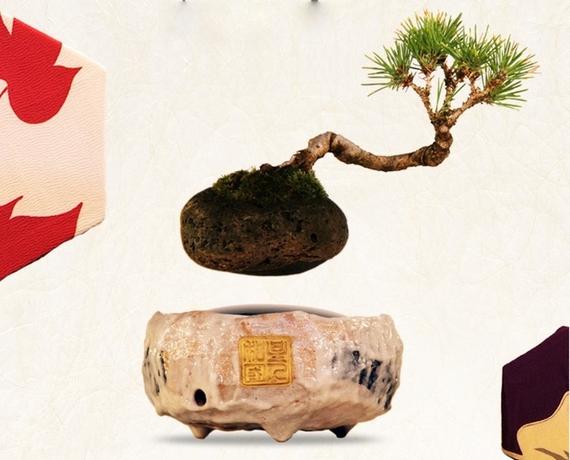 Humans seem to be obsessed with things that float, like hoverboards, UFOs and levitating Bluetooth speakers. A Kickstarter project wants to extend that love for the defiance of gravity to plant life. Air Bonsai uses the power of magnetic levitation to float small trees grown and groomed through the Japanese art of bonsai.
Air Bonsai uses the same principle we've seen before in this floating chessboard and this UFO-inspired levitating speaker. Repelling magnets push away from each other, allowing the plant container to float above the base. The creators refer to the floating plants as "little stars."
The effect is magical. The tiny trees float gently and spin slowly like imaginative creations from an anime. Some of them look like dainty planets with cratered surfaces. Small pines are what most people are familiar with when it comes to bonsai, but the Air Bonsai can also be used to grow other flora like mosses and flowering plants.
Related stories
Levitating Mars speaker takes your music to new heights
Darfon's super-thin Maglev Keyboard will make notebooks even slimmer
See a brick-topped pillow appear to float in midair
Shipping live plants can be a challenge. Air Bonsai plans to use locally sourced plants for backers in the US. Backers in most other countries will have to provide their own bonsai.
There seems to be a lot of interest in magnetic gardening. The project blew away its original $80,000 funding goal and has attracted over $185,000 in funding so far with 35 days left to run.
A basic Air Bonsai set that includes the growing container, "energy base," a cushion, a box and an AC adapter starts at a $200 (about £140, AU$290) pledge price. Keep in mind that not all crowdfunding projects deliver on time or as expected.
It's easy to see why these charming trees are attracting so much Kickstarter attention. We may not all have hoverboards yet, but at least we can have hoverplants.