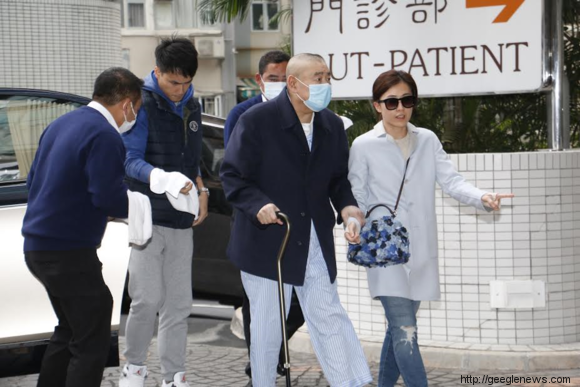 March 9, 2017 9:30 am JST
Flamboyant Hong Kong tycoon stirs up succession talk
Joseph Lau, fifth richest man in territory, transfers $2 billion of assets ahead of company results
JENNIFER LO, Nikkei staff writer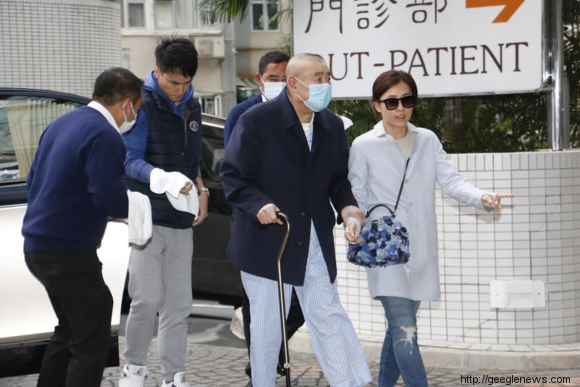 Hong Kong billionaire and real estate tycoon Joseph Lau Luen-hung, second right, is accompanied by his wife Kimbie Chan Hoi-wan, right, to HKSH Healthcare Medical Centre on Feb. 7.

© AP

HONG KONG — Fugitive Hong Kong property tycoon Joseph Lau Luen-hung is perhaps more a target for paparazzi than business journalists. Better known for his extravagant purchases of private jets and Hermes handbags for his girlfriends, his recent wealth transfer has come under spotlight, revealing deeper fissures and governance issues in the family business of the ailing billionaire.
Lau, 65, announced that he would divide his 17 billion Hong Kong dollar ($2 billion) business empire between his loved ones early March. As a trustee for their children, his wife Kimbie Chan Hoi-wan received half of the shareholding in Chinese Estates Holdings, a developer founded by Lau. His son and non-executive chairman Lau Ming-wai had a quarter.
At first glance, it seems a vanilla deal but the move surprised investors in several ways. The world's 65th richest man in 2016 according to Forbes, Lau made Chan, a former celebrity reporter, the richest woman in Hong Kong overnight, with an estimated net worth of HK$54 billion.
Hong Kong-listed Chinese Estates entered a "blackout period" during which major shareholders cannot transfer their stakes before it announces annual results this Thursday. The company sought an exemption from the regulator citing Lau's "very unstable health condition" and the need to complete the transaction "during his lifetime," according to a company statement to the local bourse.
In a dramatic twist, however, Lau appeared at his company's headquarters with Chan the following day after the transaction, defying speculation about his death and succession plan.
The restructuring exercise came just weeks after Chan was appointed as executive director of Chinese Estates. Her elder sister Chan Sze-wan serves as chief executive while her young sister is an executive director.
Lau, meanwhile, resigned all his positions at Chinese Estates after he was handed a five-year sentence by the Macau court in 2014 for his involvement in a land corruption scandal. He remains free in Hong Kong as there is not an extradition agreement between the two territories.
Despite skepticism about Chan's lack of qualifications, the company pointed to her brief stint in the media and the group's cosmetics business from 2002 to 2005. She "gained experience in properties and securities investments through her investments," it said in a statement on Feb. 13.
"If this is something inevitable for Mr Lau, it is better done early than late," said a property analyst in Hong Kong, commenting on the recent restructuring and leadership reshuffle. "But it's probably too early to conclude if he has chosen the right man to run the company."
Big show of love
In fact, Lau's enormous wealth transfer started much earlier, as his health began to deteriorate. In January, he gave Chan a skyscraper mall named "The One" in the bustling tourist district of Tsim Sha Tsui as a symbol of their relation. Chan also received a HK$1 billion residential project of 40,000 square feet, Shui Fai Terrace, in the luxury district of Mid-Levels through Chinese Estates.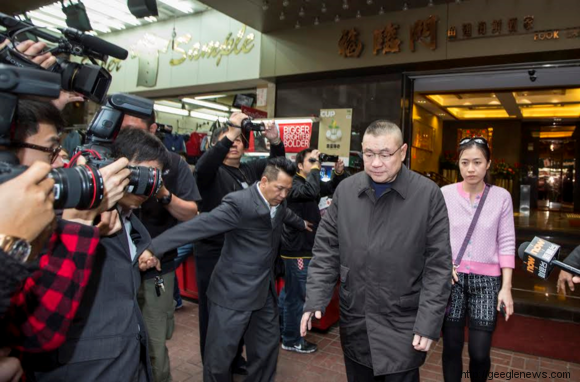 Hong Kong real estate tycoon Joseph Lau Luen-hung leaves a Cantonese restaurant with his then girlfriend Chan Hoi-wan, right, on March 17, 2014. © Reuters
Close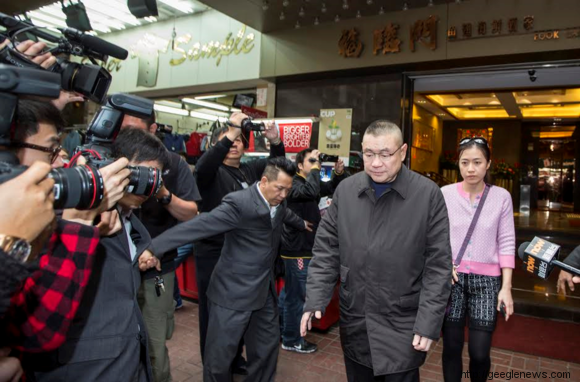 Hong Kong real estate tycoon Joseph Lau Luen-hung leaves a Cantonese restaurant with his then girlfriend Chan Hoi-wan, right, on March 17, 2014. © Reuters
In the same month, the company sold a number of retail properties in Shenzhen to Lau's son Ming-wai for HK$500 million. Lau also had his company sell Windsor House, a prime shopping mall in Causeway Bay to himself for HK$12 billion in December. The group's market capitalization shrank to HK$22.8 billion following rounds of asset sales, down nearly 40% from last April.
The flurry of deals was part of the tycoon's succession plan to offload assets to trusted relatives. Lau was reportedly suffering from renal failure before he had a kidney transplant. Last October, he was seen in a wheelchair at the funeral of his friend, Cheng Yu-tung, founder of Hong Kong's New World Development.
Some observers say the latest asset transfer aims to prevent a potential feud over his wealth, but others are less optimistic. "Business sustainability and the transfer of family values remains a question mark," said Simon Lee, a senior lecturer at the Chinese University of Hong Kong's Business School.
The appointment of several close family members in the management team without clear roles assigned to them could also pave the way for future disputes. "This is a big taboo in business," Lee said.
Rivals seem to have learned a lesson from the bitter boardroom dispute at family-controlled Sun Hung Kai Properties. Hong Kong's richest man Li Ka-shing, who controls conglomerate CK Hutchison and real estate arm Cheung Kong Property Holdings, handed over his business empire to one son but encouraged the other to develop his telecommunications business at PCCW. Lee Shau-kee of Henderson Land Development had his two sons take over operations in Hong Kong and mainland China respectively.
But family relations are more complicated for Lau, who is known for his colorful love life. Lau first met his current wife Chan in the 1990s when the latter covered his high-profile divorce with his first wife Theresa Po Wing-kam for local newspaper Apple Daily.
The pair began to date in 2002 and had two children, Josephine, 9, and Chung-hok, 4, before they officially got married last year. During the period, Lau was found dating former beauty pageant contestant Yvonne Lui Lai-kwan, 39, with whom he had two children aged 7 and 15.
In a bid to cut ties with his ex-girlfriend, Lau placed front-page advertisements in seven local media last November. "Ms Lui has accumulated considerable wealth … She can maintain a luxurious lifestyle by herself without my financial support," Lau said in the statement, referring to cash and jewelry worth over HK$2 billion he had given Lui until they broke up in 2014.
A father of six children, Lau found his wealth by selling electric fans and bug zappers with the support of his first wife in the 1970s. He later expanded into real estate largely through aggressive property acquisition. His brother Thomas Lau Luen-hung is also a businessman and operates the Sogo department store in Hong Kong through Lifestyle International.
An owner of several private jets and art works by Andy Warhol, the elder Lau has a history of lavish purchases. He reportedly splashed on hundreds of Hermes handbags for his girlfriends. His large collection of precious stones includes a $49 million blue diamond he bought for her daughter, Josephine, the highest price ever paid for a gem at auction. He is also a frequent guest at Fook Lam Moon, a Chinese restaurant known for its expensive dishes from abalones to shark fin.
In a recent media interview, Lau described as Lui as a "greedy" women, unlike Chan who was "honest" and did not care about money.
"Like any palace rivalry, you'll need strong survival skills to navigate your way through the complex power relations in a family business like this. Despite being a newcomer, Chan has clearly shown her talent in this," said Chinese University's Lee.
Still, it remains to be seen if Chinese Estates will thrive without Lau and a strong management team in place during the leadership transition. "Individualism can't be very sustainable for a business," Lee said.