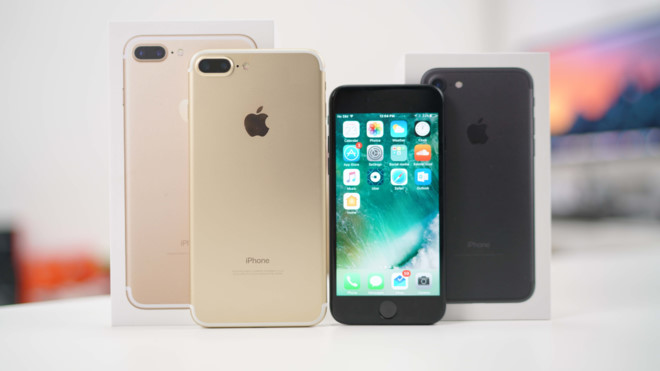 So far, the decision to remove headphone jack on the iPhone 7 is still controversial. However, this is not the only smartphone to remove this connector.
The majority of users claim that the death of the 3.5mm headphone jack brings some inconvenience to them. Giving up a habit has never been easy. Apple and other manufacturers, meanwhile, argue that this is a move to prepare for a world of wireless future.
Here are five noteworthy smartphones that dreadfully die the 3.5mm headphone jack.
iPhone 7, 7 Plus
The decision to kill Apple's headphone jack caused controversy. However, the company is accustomed to this after several attempts to declare the old standards such as 30-pin charger, micro SIM tray …
Currently, users of iPhone 7 and 7 Plus have three ways to use the headset: First is to use the headset with the Lightning port, the second is to use Apple's transmitter or wireless headphones. It seems that Apple has a third option when it comes to launch a new AirPods headset brand.
Except for this minor disadvantage, the iPhone 7 and 7 Plus are rated as the most worthy smartphone market with strong performance, beautiful design and colorful fashion.
Moto Z
When the iPhone 7 comes out, people know more about a cell phone without a headphone jack. In fact, Moto Z has done this before the iPhone for several months. Lenovo's ultra-thin smartphone not only dumps the headphone jack, but also brings a whole new theory of how to take advantage of a smartphone.
This mobile has a modular design that allows users to disassemble external modules to turn it into a projector, compact camera or extra battery and physical keyboard.
The Moto Z has a powerful configuration compared to a 2016 launch model, including a 5.5-inch Quad HD screen, a Qualcomm Snapdragon 820 processor, 4 GB of RAM and 32 GB of storage.
HTC U Ultra
U Ultra also removed the headphone jack, forcing users to use the USB port to plug in the headphones.
This mobile owns a large 5.7-inch widescreen, not to mention a secondary monitor, a unique Liquid Surface design with a mirror-like cover, and a metal frame. HTC's latest high-end mobile phone uses a 12 megapixel camera, the same sensor with Google Pixel. In mid-May, HTC will launch a new model U. This smartphone will also have no headphone jack.
Xiaomi Mi 6
Mi 6 is the latest mobile to join the smartphone list saying 'no' to the headphone jack. This mobile possesses a neat design, dual camera and USB-C port as the audio port. Mi 6 is loyal to the 5.15-inch screen like the previous generation, resolution to stop at Full HD.
Configuration of the machine is very powerful including Snapdragon 835 chip, 6 GB RAM and 64 GB memory. The machine is not on the shelf, but its estimated price is more than VND8 million, half the size of most mobile configurations.
By: Anna Lee