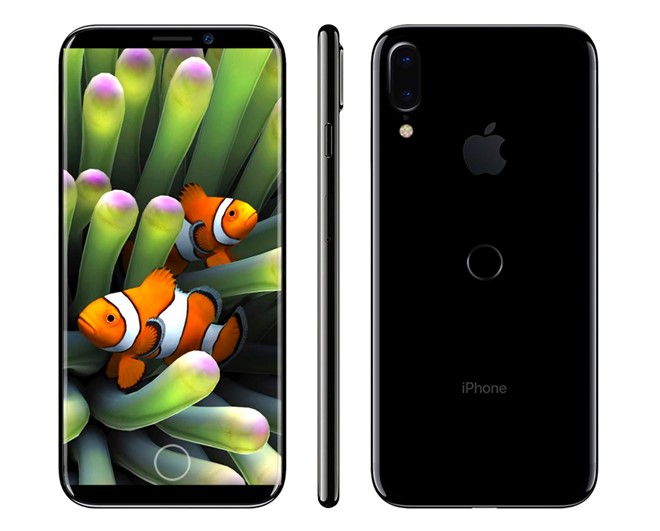 IDropNews proclaims mobile image with overflow design and the Home button in the screen which they have posted is the final prototype of iPhone 8.
IDropNews says this image is provided by "close sources from in Foxconn, China."Their unnamed source claims that this is almost the perfect design of the iPhone 8, only a few minor details will be changed.
According to this, iPhone 8 will use OLED curved overflow, similar to Galaxy S8 opponents. The traditional Home button is also replaced by a virtual key to be completely free the front screen.
Many rumors suggest that Apple will put the Touch ID under the Virtual Home key. However, the new image shows that the fingerprint sensor will be moved to the back. Meanwhile, the sensor cluster is located at 1/3, just below the empty apple logo. The dual camera cluster will be vertical rather than horizontal like the iPhone 7.
Putting the fingerprint sensor on the back will make iFan change its locking habit. Some rumors suggest that Apple will be equipped with iris sensors for iPhone 8 to support users.
The anonymous source also dismissed rumors that Apple is using glass material for iPhone 8. The phone will still use metal because the glass is easy to fall apart. Apple will use new material, ensuring the iPhone 8 looks sexy while ensuring durability.
Apple's next smartphone is the 10th anniversary version of the iPhone. This is a special event for Apple. Many people believe that the next-generation of iPhone will have many breakthroughs in both design and configuration.
In a recent interview with Nikkei Asian Review magazine, Apple said it will postpone the release of the next generation iPhone in October. The reason is that the company needs time to customize and change some details to the Touch ID. .
Apple does not comment on images which iDropNews claims that is the iPhone 8.
By: Anna Lee