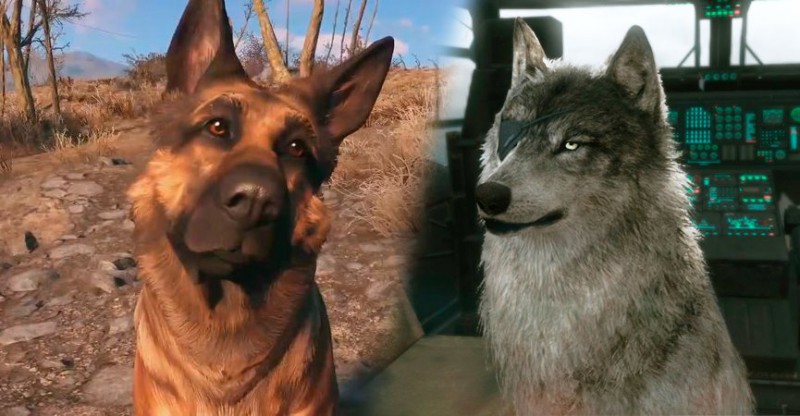 Dogs. Who are they? What do they do? Where do their barks really come from? While we can't answer the oldest canine questions, we at PC Gamer know a thing or two about which dogs are better than others, especially in PC video games.
What is dog?
There have been some gorgeous dogs in games throughout the years—they're the only reason we remember Call of Duty: Ghosts, for instance—but in 2015, two standout specimens captured the attention of game-playing canine literate: D-Dog from Metal Gear Solid 5: The Phantom Pain and Dogmeat from Fallout 4. Appropriately, each publisher used dog imagery and bark evocation to appeal to the hardcore dog crowd. It worked: the games came out to mass critical acclaim, and now nearly every comment thread on either game eventually devolves into a dogged debate on absolute dogness. So, it's time we kenneled the tired question: who is the better video game dog?
I couldn't properly judge the two specimens without proper guidance, so I turned to the American Kennel Club for a crash course on dog value. It didn't take long to understand. The AKC's beginner's guide borders on poesy with its bullseye description of why we dog people do what they do: "Showing dogs is a great sport where the thrill of competition is combined with the joy of seeing beautiful dogs." Wow. But since we're a video game publication dealing with dogs that don't exactly 'exist,' we had to tweak the AKC's rules just a bit—let's call ourselves an 'unofficial extension' of the AKC, then, hereby known as the PC Gamer Virtual Kennel Club. And for the first time ever, this instantly prestigious organization will be giving out the much sought after PC Gamer VKC Blue Ribbon Award. Let the show begin!
---
Criteria
First, we need to define the criteria by which our contestants will be judged. In an AKC dog show, dogs are judged by how well each conforms to their breed standard, the reason being that, "The dog's conformation (overall appearance and structure) is an indication of the dog's ability to produce quality puppies." Tell you what, I don't know a joy greater in this world than a Quality Puppy™. So, even though these virtual dogs' true ability to spit out perfect pups is based on a programmed ability to do so, we'll play along, but throw in some game-specific criteria as well.
Dogmeat is obviously a German Shepherd, so we'll have no trouble determining his worth.
D-Dog is tricky. Big Boss finds him in Afghanistan, and he looks pretty similar to a Siberian Husky. The implication is that he's part wolf, though, and without AKC approved guidelines for wolf conformity, we'll have to play some dog show jazz.
---
Height
The Wicket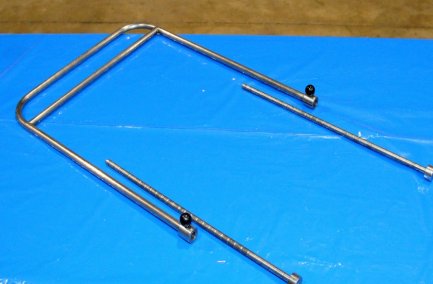 Not a surgical tool, just a harmless measurement device used to determine a dog's worth!
Each dog has an estimated healthy height as determined by the AKC (22 to 24 inches for German Shepherds, 21 to 23.5 inches for Siberian Huskies), but MGS and Fallout 4 don't have virtual wickets included in the game. It's a pretty big oversight, but as a resourceful dog fan, I'm not ready to go paws up quite yet (unless we're talking bellyrubs). Dogs aren't measured from the head, as might be expected. They're actually measured from the withers, which is essentially the base of the neck above the front legs. Since we don't have a comparable method for measuring the dogs (Four Nuka Colas stacked? Four dead guards high?) the PCG standard will aim for overall size potential, because the bigger the dog, the more places to get some good scratching in.

Dogmeat: Hop into the console, click on Dogmeat, and type 'setscale 10'.
D-Dog: Half a Big Boss-ish.
Winner: Dogmeat
D-Dog is pretty damn big and intimidating, but with a few tweaks in the console, Dogmeat can grow to the size of a certain big (red) dog and fulfill a few childhood fantasies.
---
Proportion
The AKC conformity generally states that each specimen should be longer than they are tall. I think that's a pretty silly rule, especially if a dog chooses to walk on two feet like a person. A good dog shouldn't be judged on something they can't necessarily control anyway. But a dog can control how fit and nimble they are, which leads to good muscle and bone health. Basically, the PCG standards for conformity are thus: which dog is more jacked?

Dogmeat: A bit wiry from all those irradiated snacks.
D-Dog: Jacked. Look at those broad shoulders. Phew.
Winner: D-Dog
Dogmeat, we know it's hard out there in the wasteland, but maybe start lifting heavier bones and chomping down a few more mirelurks to meet that protein quota. Don't forget the Rad-X though.
---
Substance
The AKC conformity for substance varies for each breed, but none are a fun read. Essentially, dogs get penalties for excess weight. Dogs are getting jipped for eating all those bones we throw. And we should be throwing bones, because dogs are great and deserve them. So we've altered the standard for conformity yet again as a passive aggressive punitive measure against the AKC for implying dogs shouldn't be chomping on whatever sauce they can. It's a dog-eat-dog world out there, but only because we're withholding treats for points. Shame. Anyway, since video game dogs don't have to worry about food, the PCG standards for conformity will be based on the amount of polygons each has. More polygons means a prettier pup.
Dogmeat: Knows how to rub in the dirt, looks like a cardboard puppet doing it.
D-Dog: Super detailed, fluid, tail and panting animations. I could watch it forever.
Winner: D-Dog
Dang. Going on record as saying that is The Best Panting Animation of All Time.
---
Gait
According to AKC conformity, most breeds should have a smooth, seemingly effortless gait. They should be quick and light without tripping up. I can get into it. Fallout 4 and MGS5 both feature dogs that can't afford to be clumsy, lest they trip and fall into a pool of radioactive goo or alert the guards and get torn up by an APC. So PCG is mostly with the AKC on this one, except that I doubt there is a WalkBad function buried in either of their code. We'll thus be altering the standard for conformity to give each dog a bonus for their lack of adherence to their intended adherence to physics. True video game dog athleticism requires grace in routine movement, but it also requires grace in flying through the air to body slam mutant molerats.
Dogmeat: This happened.
D-Dog: He gets carried away by a big balloon sometimes, so what?
Winner: Dogmeat
A flying dog is a flying dog.
---
Coat
AKC coat conformity descriptions have more descriptive words for hair than I ever thought possible. Ideally the coat should be well-maintained, never too coarse, but not too silky either—in the general region of impossible. Dog hair standards are out of control. The best kind of dog hair is the kind you find on your black t-shirts after every wash, even if your dogs live a few states away. Since Dogmeat and D-Dog are usually covered in a combination of blood, dirt, fish guts, and or horse shit, we'll focus on a better area of dog representation: fashion. Who wears what, and who wears it best?

Dogmeat: It's possible to equip Dogmeat with a small assortment of puppy paraphernalia, such as a red bandana and blacksmith goggles. It just might be the second cutest thing on this planet…
D-Dog: …Because the cutest thing is the aplomb with which D-Dog can pull off battle dress. Each of D-Dog's outfits is a slick combination of both function and style.
Winner: D-Dog
While Dogmeat's bandana and dog raider armor are to die for, D-Dog's canine knife sheath and battle dress have looks that will literally kill.
---
Temperament
AKC conformity for temperament is different for each breed. There are huge digressions about what it means for a dog to be 'full of life' or calm and collected. I get that these writers are really into their practice and want to be as specific and romantic as possible. This is a dramatic competitive sport, after all. But every massive wall of dog temperament text could be chopped, seasoned, and reduced in a pan over a low heat to one savory characteristic: is the dog chill? Does your dog know how to get riled up and have a good time? Can they nap and catch up on shows without a whimper? If so, then the dog is chill. We at PCG will use chillness as our standard for dog temperament conformity and you should too.
Dogmeat: You can point to drugs and Dogmeat will grab the drugs and bring them to you.
Sometimes, he'll even bring you surprise drugs.
D-Dog: He'll stab a guy. That's some hairtrigger loyalty, sure, but I worry about D-Dog's agency.
Winner: Dogmeat
D-Dog will kill for you, but as Big Boss, that's old hat. Dogmeat makes sure your pretty colors quota is up to standard in a dreary post-apocalypse. That's puppy love.
---
VKC Blue Ribbon winner
D-Dog!
Dogmeat is great, don't get me wrong, but D-Dog takes the meat pie. Dogmeat is caring and loyal, but not really in it with the player. D-Dog is there from the get-go, the moment he waddles up in the desert and yips and yaps slew me on the spot—not with a knife, but with love at first sight. Sure, it's a bit disconcerting that he'll kill anyone and everyone without a second thought, and sure, D-Dog can't actually fly without help—that's just the thing though. D-Dog and the willing player form a symbiosis. They depend on one another to be the best (stealth infiltrators) they can be. On top of that, no other dog this year looked as fit or functioned better.
Congratulations, D-Dog, you truly are a good boy.