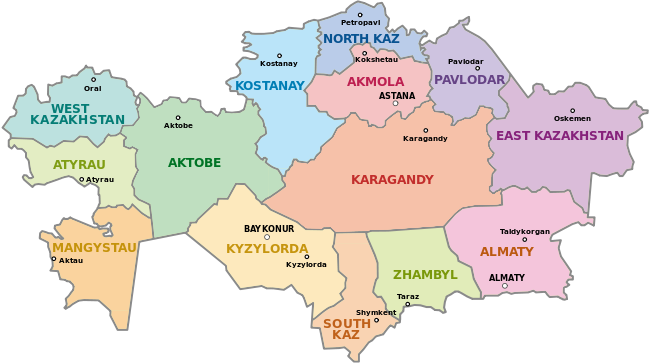 Embassy of the Republic of Kazakhstan is located at 1401 16th Street, NW Washington, DC 20036 (202) 232-5488
E-mail: washington@mfa.kz or kzconsuldc@gmail.com
Kazakhstan sets a visa-free regime
According to the Kazakhstan Government decree No. 483 of June 26, 2015 citizens of following countries holding valid diplomatic, official and national passports can enter, transit through and exit the territory of Kazakhstan without a visa for up to 15 calendar days from the moment of crossing the state border, starting from July 15, 2015 to December 31, 2017:
1. United States of America,
2. Australia,
3. Hungary,
4. Monaco,
5. Belgium,
6. the United Kingdom,
7. Spain,
8. Norway,
9. Singapore,
10.Finland,
11.Switzerland,
12.Sweden,
13.Germany,
14. France,
15. Italy,
16. Malaysia,
17. Netherlands,
18. United Arab Emirates,
19. Japan.
If a foreign citizen from above mentioned countries should stay longer than 15 calendar days in the Republic of Kazakhstan, they need, as prescribed by the law of Kazakhstan, to obtain an appropriate visa of "business" category at the Ministry of Internal Affairs or "investor" category at the Ministry of Foreign Affairs.
How to apply for a visa steps
Determine the purpose of your travel.
Prepare all required documents for a visa.
Submit the documents.
You may submit your documents in two ways:
1. Bring the documents to the Consular Office of the Embassy of Kazakhstan Address: 1401 16th street NW, Washington DC, 20036
Hours: 09.00AM-12.00PM every day, except Wed, Sat, Sun and public Holidays.
2. Through visa-processing companies registered in the United States. Unfortunately, we cannot recommend any company, please use google.com.
3. via postal services (USPS or FedeEx).
Required documents:
Valid diplomatic passport: Your passport must be valid for at least 6 months longer than the validity of the requested visa and should have at least one blank page for a visa.
Visa Application: A separate visa application form must be completed for each person.
All fields must be completed, otherwise your application may be refused. Please see
Visa application instructions for details.
Photo: One passport size (3,5×4,5 cm) photo of the applicant, which should be stapled to the marked space in the upper right hand corner of the application form. Please see
Note from official authorities. The Note should state your name, title, purpose of your travel, dates of your trip and places to be visited.
There is NO consular fee for diplomatic visas
Application fees for each visa type
There are several different visas available to US passport holders, dependent on the purpose of the visit to Kazakhstan. Each visa has a fee that must be paid (by money order (cash and personal or corporate checks are not accepted)). Below you will find the typing Visa Processing Fees and a typing numerated list of required documents for a complete visa application package.
**Attention Frequent Travelers to Kazakhstan
Five-year, multi-visit visas available
As of August 1, 2013, US passport holders applying for diplomatic, official, private, tourist, business and student visas can now receive a visa with a maximum validity of five-years.
The fee for a five-year, multiple entry visas is $160.00. Note: There is no new application form for five-year visa applicants. Applicants should indicate in their letter and application form they seek a five-year visa.
For American passport holders:
Business, private visa
• Single entry visa: $160.00
• Double entry visa, up to three months: $160.00
• Triple entry visa, up to three months: $160.00
• Multiple entry visa, up to five years: $160.00
• Work visa, up to one year: $190.00
• Investor Visa: No fee
Tourist visa
• Single entry visa, up to one months: $160.00
• Double entry visa, up to three months: $160.00
• Transit visa: $160.00
• Missionary Visa: $190.00
• For Non-American passport holders
Business, private visa
• Single entry visa: $140.00 USD
• Double entry visa, up to three months: $140.00 USD
• Triple entry visa, up to three months: $140.00 USD
• Multiple entry visa, up to one year: $140.00 USD
Tourist visa
• Single entry visa, up to one months: $140.00 USD
• Double entry visa, up to two months: $140.00 USD
Transit visa
• Single entry visa: $140.00 USD
Source: http://www.kazakhembus.com/content/visa-fees