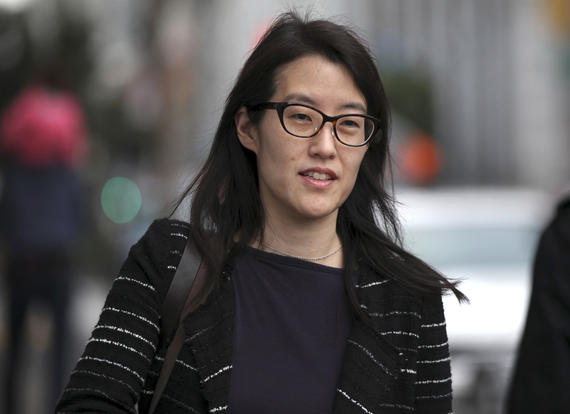 Technically Incorrect offers a slightly twisted take on the tech that's taken over our lives.
---
Moral dilemmas can take you for a ride sometimes.
You're trying to have a decent day, and suddenly life tosses you lemons from which the best you might hope for is a little acid.
This is what appears to have happened to Ellen Pao.
Pao is the women who accused Silicon Valley venture capital firm Kleiner Perkins Caulfield and Byers of sex discrimination that went on for six years.
She sued in 2012. Last March, a jury of six men and six women rejected Pao's claim. Her lawsuit did, however, expose more fully the painful prevalence of male-dominated attitudes in the tech world.
On Saturday morning, Pao booked herself a Lyft that may have turned out to be a bit of downer. She shared her moral dilemma on Twitter: "So my Lyft driver this morning was a juror who voted & spoke against my case. He did a great job driving."
What to do? Stare at him throughout the journey with a menacing expression? Smile gracefully, but eat a banana and leave the peel on the floor?
Pao was torn. She added a poll to her tweet. She asked her roughly 13,500 followers whether she should tip him as usual, reduce her tip, or offer him the same chilly shoulder that he allegedly offered her at the trial.
It's not clear what she decided to do. Her spokeswoman offered a polite "no comment."
Naturally, some Twitterers were keen to offer advice. Darryl McAdams, for example, suggested she tip him well as this "will make him feel guilty, and that will eat at his soul forever and destroy him! MWAHAHAHAHA."
Alex Nicholson mused: "Pay him for the job he did. Not who he is. Same as what you wanted."
Indeed, at the time of writing 69 percent of voters decided she should tip him as usual. A mere 25 percent hissed: "No tip."
Such oddly reasonable people. Whatever happened to an eye for an eye? Donald Trump shows it works.
More Technically Incorrect
The Super Bowl ad that might send a shiver down your spine
Neil deGrasse Tyson goes all out against flat-earther B.o.B
or Super Bowl, Mini wants you to stop calling it names
Charlie Garvin thought ahead in a lawyerly manner: "Do unto others. Rate him on the service he provided today. But ask Lyft to be sure dudebro don't downrate you because of who you are."
It's unclear who her driver was. Lyft didn't immediately respond to a request for comment. But if Pao recognized her driver, he surely will have recognized her.
Lyft encourages its passengers to interact. Indeed, its own site says: "The star rating should be based on your interaction with the driver during the ride." It adds that anything less than a 5-star rating suggests you were unhappy with the driver.
So put yourself inside both Pao's and her driver's heads. They see each other. They know each other. Who speaks first? Do they go for small talk? Or do they express what they feel inside?
Who could have blamed Pao if, had the driver tried to make small talk, she had replied: "Just drive. OK?"
And who would be surprised if she'd taken the initiative, looked over to him and, with a smile, said: "Oh, you're a Lyft driver?"
So my Lyft driver this morning was a juror who voted & spoke against my case. He did a great job driving. Should I

— Ellen Pao (@ekp) January 30, 2016