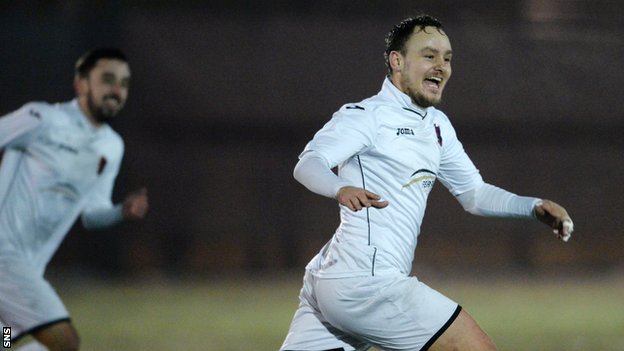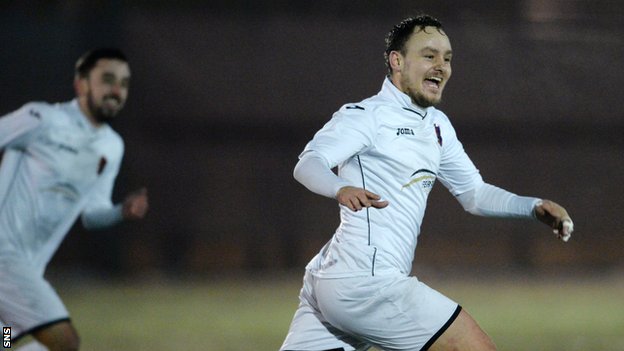 Sean Winter previously played for Stranraer
East Kilbride midfielder Sean Winter faces an agonising dilemma over whether to face Celtic in the Scottish Cup – and miss a family holiday to Australia.
The Lowland League have secured a glamour fifth-round tie against the Scottish champions on 7 February.
But Winter, his girlfriend and son have a long-standing holiday to Australia booked for two weeks from 1 February.
"I've got family over there and the whole family is going over," the 28-year-old midfielder told BBC Scotland.
"Every round, I knew it was getting closer and closer to this holiday and, when we got Celtic in the draw, it was mixed emotions.
"I'm supposed to be going away on 1 February for two weeks."
That would mean missing the biggest game of East Kilbride's five-year existence – one that will be televised live on BBC Scotland.
"I'll have a think about things, but it's really expensive to try and rearrange the flights. We've been saving for a while now," said Winter, who has scored in every round of the cup so far, including the second in Wednesday's 2-0 win over Lothian Thistle Hutchison Vale.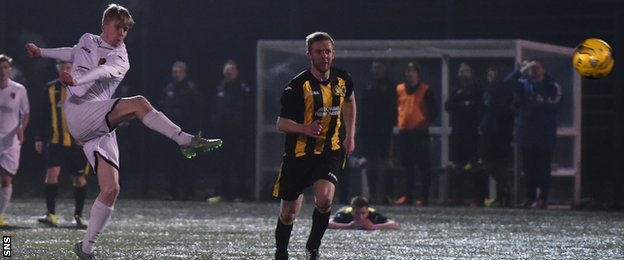 Jack Smith put East Kilbride into the lead against Lothian Thistle Hutchison Vale
"It's a tough one, but I wanted to play [on Wednesday] to try and help the guys get through, even if I'm not going to be there.
"We'll look at everything and try and rearrange things, but it's probably going to be too much to do that.
"I didn't want to think about it too much until we got through this tie. But now we can look at all the different options."
'Get me a pair of size sevens'
While Winter started to wrestle with his dilemma as victory beckoned on Wednesday, captain Barry Russell had problems of his own.
The defender, who had a domestic mishap with a nappy after hearing the cup draw, had to play the majority of the final 45 minutes wearing one black boot and one green boot.
"I went to play a ball down the line and it was a bad ball, so I knew there was something up straight away," said the 26-year-old.
"I looked down and my full sole had snapped, so I had to say to my mate in the crowd to run and get me a pair of size sevens.
"I wasn't changing my left foot, though, it was perfect."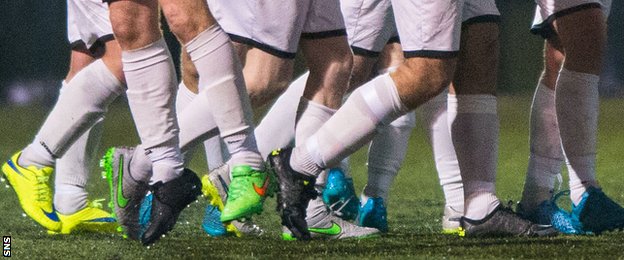 East Kilbride captain Barry Russell finished the game with odd boots (left)