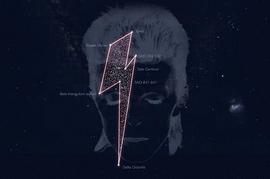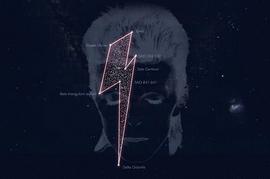 Many fans of David Bowie (myself included) have always considered the singer, songwriter and actor more than just a mere mortal, so it seemed fitting when we heard there'd be a tribute to the original space oddity in the very stars from whence he came. Sadly, though, it seems there won't be any ch-ch-changes to the night sky after all.
An astronomical tribute to Bowie was announced by the MIRA Public Observatory in Belgium following the musician's death last week at the age of 69. The observatory, along with radio station Studio Brussels, delighted grieving fans with the Stardust for Bowie project, a plan to name for Bowie a seven-star constellation in the shape of his famous lightning bolt motif.
"Studio Brussels asked us to give Bowie a unique place in the galaxy," Philippe Mollet of MIRA told a Belgian news site. "Referring to his various albums, we chose seven stars — Sigma Librae, Spica, Alpha Virginis, Zeta Centauri, SAA 204 132, and the Beta Sigma Octantis Trianguli Australis — in the vicinity of Mars. The constellation is a copy of the iconic Bowie lightning and was recorded at the exact time of his death."
But the International Astronomical Union, which is in charge of officially naming constellations, says it hasn't received any application that a constellation be named after the late singer — and more importantly, that the constellations are already mapped and named.
"The International Astronomical Union has not received an official request to register a new constellation from the Mira Observatory and I cannot find any reference to this 'registration' on the Observatory's website," Piero Benvenuti, General Secretary of the International Astronomical Union, told Wired. "We would be surprised to receive such a request as all of the regions in the sky have already been charted into constellations," he added. "The IAU named the 88 constellations and defined the constellation boundaries back in 1930."
Related stories
Remembering David Bowie
Honest Trailers' 'Labyrinth' roast turns into David Bowie tribute
Meet one zoo's newest baby, an adorable penguin named Bowie
MIRA has since updated information about its tribute, saying that it was all supposed to be a symbolic gesture to honor Bowie rather than an official astronomical update.
However, all is not lost: fans could always petition to have an asterism after Bowie. Asterisms are patterns of stars that group stars together even if they're not part of the same constellation, like "The Big Dipper", which is formed of the brightest stars in the constellation Ursa Major. The suggested lightning bolt pattern of stars could fall into this category.
The iconic red and blue lightning bolt was painted on one side of Bowie's face on the cover of his 1973 album "Aladdin Sane", which featured hits such as "The Jean Genie". By adopting the alter ego of alien rock star Ziggy Stardust, singing otherworldly songs like "Starman" and playing an alien in the 1976 sci-fi film "The Man Who Fell to Earth," Bowie spoke to those of us who also felt like aliens on Earth because we didn't quite fit in — whether it was because of our sexuality, appearance or quirky personality. By creating the kind of bizarre persona of a non-human who just wanted to belong, he made us all feel like we should embrace our unusualness and be proud of our differences.
Winning astronomy photos of the year show…
Astronomy, sci-fi and Bowie have gone together like jeans and genies ever since his single "Space Oddity" became a hit in 1969. Bowie wrote the song after seeing director Stanley Kubrick's 1968 movie "2001: A Space Odyssey." "Space Oddity" is about a fictional astronaut named Major Tom on a mission from Earth to outer space when something odd happens and his circuits go dead, to mission control's dismay. Major Tom's final words in the song are the simple lament, "Here… am I floating in my tin can, far above the Moon / Planet Earth is blue and there's nothing I can do."
"Space Oddity" holds such a dear place for astronomers and astronauts alike that in May 2013, Canadian astronaut and commander of Expedition 35 Chris Hadfield performed the song while in orbit, floating inside the International Space Station. The resulting footage was the first music video ever shot in space, and quickly went viral.
Here's hoping we still see some sort of an official astronomy-based tribute — whether it's an asterism, a satellite or even a new planet name — to honor everyone's favorite Starman.