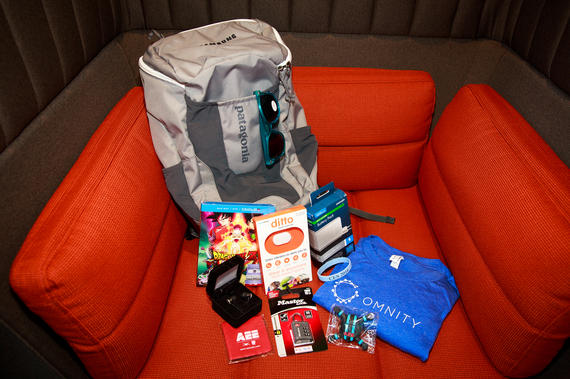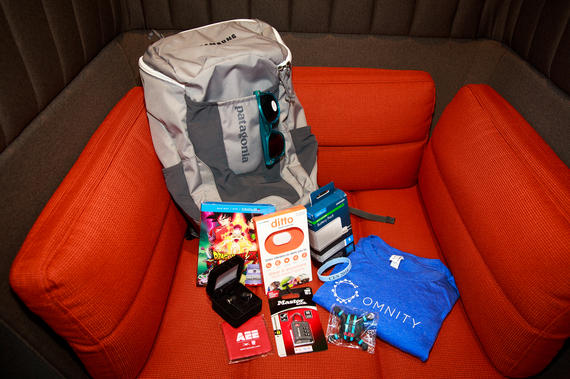 Congratulations to Chris D. of Turlock, California, for winning part 1 of our CES swag giveaway extraordinaire last week. Now, on to part 2.
This week's winner gets a nice big padded Patagonia backpack — with lots of good stuff inside. That stuff includes a pair of Maroo fashion earbuds inset with shiny cut-glass stones and a Samsung 5200 mAh Fast Charge Battery Pack for powering the Samsung Galaxy Note Edge, Note 4, Note 5 or Galaxy S6 series on the go. The portable battery can, on average, charge a device from 0 to 50 percent in 30 minutes.
You'll find more in the backpack, including a little Ditto wearable from Simple Matters that vibrates to alert you to calls and texts on your iOS or Android device in case you didn't feel your gadget vibrate. Then there's a Blu-ray/DVD combo of the film "Dragon Ball Z: Resurrection 'F'" from the Japanese animated series. And other bits and bobs.
Related stories
CNET's full coverage of CES 2016
So what do you have to do to score this CES bundle worth approximately $325? There are a few rules, so please read carefully.
Register as a CNET user. Go to the top of this page and hit the "Join CNET" link to start the registration process. If you're already registered, there's no need to register again.
Leave a comment below. You can leave whatever comment you want. If it's funny or insightful, it won't help you win, but we're trying to have fun here, so anything entertaining is appreciated.
Leave only one comment. You may enter for this specific giveaway only once. If you enter more than one comment, you will be automatically disqualified.
The winner will be chosen randomly. The winner will receive one (1) bundle of CES swag, with a retail value of approximately $325.
If you are chosen, you will be notified via email. The winner must respond within three days of the end of the sweepstakes. If you do not respond within that period, another winner will be chosen.
Entries can be submitted until Monday, February 1, 12 p.m. ET.
And here's the disclaimer that our legal department said we had to include (sorry for the caps, but rules are rules):
NO PURCHASE NECESSARY TO ENTER OR WIN. A PURCHASE WILL NOT INCREASE YOUR CHANCES OF WINNING. YOU HAVE NOT YET WON. MUST BE LEGAL RESIDENT OF ONE OF THE 50 UNITED STATES OR D.C., 18 YEARS OLD OR AGE OF MAJORITY, WHICHEVER IS OLDER IN YOUR STATE OF RESIDENCE AT DATE OF ENTRY INTO SWEEPSTAKES. VOID IN PUERTO RICO, ALL U.S. TERRITORIES AND POSSESSIONS, AND WHERE PROHIBITED BY LAW. Sweepstakes ends at 12 p.m. ET on Monday, February 1, 2013. See official rules for details.
Good luck. (And be sure to follow Crave on Twitter @crave. Some of our giveaways are now Twitter-based.)