This week marks the 40th anniversary of Concorde's first commercial flight. The supersonic aircraft took off from Heathrow airport on 21 January 1976, and while some may simply enjoy the nostalgia of the celebration, for those keen to see the aircraft back in service hope may be on the horizon.
An icon of air travel, Concorde captured the imagination of aviation fans around the world, and has retained a dedicated following since it was retired from service in 2003. Its first scheduled flight was from London to Bahrain, during which passengers enjoyed a menu featuring Dom Perignon 1969 champagne, caviar and lobster canapés and fillet steak. Customers were also offered Havana cigars.
The flight marked the start of three decades of servicethat saw millions of passengers flown at supersonic speed. Concorde had a cruising speed of 2,160kph (Mach Two) and could fly passengers from London to New York in 2 hours and 52 minutes. It had a capacity of just 100 and could carry up to 2.5 tonnes of cargo.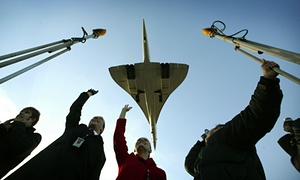 Its final commercial flight, for British Airways, was from New York to London on 24 October 2003. Essentially, a party in the sky, passengers included actor Joan Collins, model Jodie Kidd and broadcaster Sir David Frost.
Last September it was revealed that a group of Concorde enthusiasts were planning to bring the aircraft back into service, claiming they had found investors to do so. Club Concorde announced its intention to buy the Concorde currently on display at Le Bourget airport in Paris, making it available for charter, as well as air shows.
Meanwhile, plans to bring back supersonic commercial air travel remain in the pipeline, with several engineering companies filing patents for the next generation of aircraft. These include Airbus's Aerion AS2, a 20-seater business jetslated to launch in 2021, and Lockheed Martin's N+2, a concept plane designed to reduce the volume of the sonic boom – one of things that did for Concorde – that could carry 80 passengers.