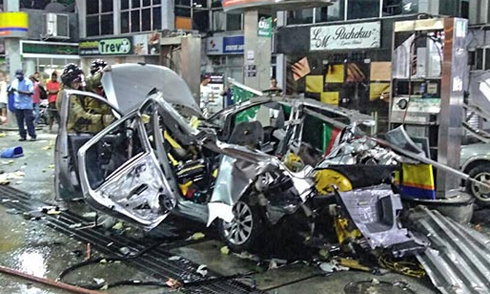 The explosionkilled a woman on the sport and injured three others at a petrol station in Rio de Janeiro (Brazil).
Security camera footage showed that the driver of the Volkswagen SpaceFox was standing beside the car as it was being filled with CNG gas on Saturday night April 8.
Jorge Siqueira de Souza, 45, appeared to be talking to the woman in the passenger seat. According to Globo, the passenger woman was indetified as Erica de Lima ThuengoSiqueira, 27. Siqueira died on the spot when the car exploded.
Moments earlier, a petrol station staff stood close the Volkswagen and moved to the opposite car only about 10 seconds before the explosion.
The compressed air car was completely destroyed. The roof of the gas station was also damaged. The video also showed that de Souza was flung across the forecourt to the ground and lying on the roadside motionless. This driver was seriously injured and two others suffered minor injuries due to the impact of the blast.
According to Rio fire department, the blast may be due to a build-up of pressure inside the compressed air cylinder caused the car to explode.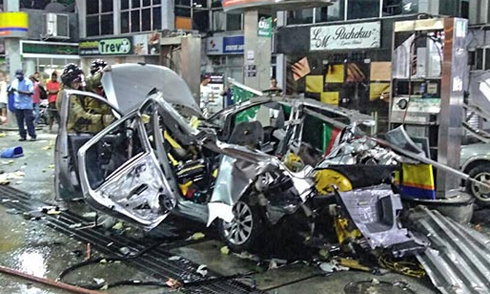 Natural gas vehicles (NGV) use compressed natural gas (CNG) or liquefied natural gas in order to replace fossil fuels. Approximately 22.7 million NGVs in over the world (up to 2015), led by China, Iran, Pakistan, Argentina, India and Brazil.
Of the 6.8 million NGVs in the Asia Pacific, Latin America leads with 4.2 million vehicles 90% of which were equipped with dual engine allowing vehicles to run by gas or compressed air.
This type of vehicles has the following advantages: quite engine operation, toxic emissions reduced from 53-63%, green house gas CO2 decreased by 20%, no dust and black smoke and especially saving up to 30% fuel.