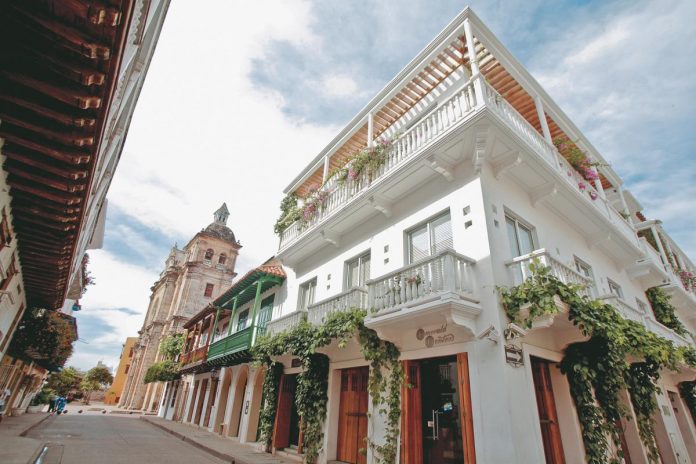 The Embassy of Colombia in Washington, DC, represents the Colombian government in the United States. The Embassy serves as a bridge between both nations and helps to advance the longstanding bilateral relationship.
The Embassy maintains an ongoing dialogue with the U.S. Government, Congress, non-governmental organizations, think tanks and universities, on a wide range of issues on the bilateral agenda. These range from broadening Colombia-U.S. commercial relations to seeking new forms of cooperation on matters of interest to both nations, including:
• Economic development and trade;
• Hemispheric security;
• The fight against international drug trafficking;
• Anti-terrorism initiatives;
• Preservation of biodiversity and environmental protection;
• Clean energy diversification;
• Science and technology;
• Educational and vocational training;
• Racial and ethnic equality; and
• Cultural affairs.
The Embassy has three key objectives:
• Diversifying the bilateral agenda;
• Advancing the bilateral alliance; and
• Promoting Colombia's national interests.
Address:
1724 Massachusetts Ave, NW
Washington, DC 20036
Tel: 202-387-8338
Fax: 202-232 8643
Email: embassyofcolombia@colombiaemb,org
Business Hours:
Monday-Friday
9:00 AM – 6:00 PM
Trade Bureau
1724 Massachusetts Ave, NW
Washington, DC 20036
Tel: 202-887-9000
Juan Carlos Pinzón – Ambassador of Colombia to the United States presented his Letters of Credence to the President of the United States on August 3, 2015. Ambassador Pinzón was born on December 22, 1971. He is married to Pilar Lozano and has two children, Natalia and Juan Pablo.
Visa information:
In America: J-1 visa holders who wish to extend their stay in the United States must obtain a non-objection letter. It is important to note that this process can take up to five (5) months to complete.
To complete this process, the interested party must send the following documents to the Embassy of Colombia in Washington, D.C.:
• Completed application form
• Written communication explaining the reasons for submitting the request.
• Copy of the first page of the applicant's valid Colombian passport (page with photograph and personal information).
• Two (2) Money Order forms, made out to the Embassy of Colombia in Washington D.C.
1. One for USD $31 destined for the Fondo Rotatorio.
2. One for USD $11 for payment of the Impuesto de Timbre.
• Copy of the applicant's Third Party Barcode Page (page with the case number assigned by the U. S. Department of State).
IMPORTANT: Please, include the "case number" you have been assigned by the U.S. State Department in the application form.
If you require a visa to go to Colombia, it must be requested at a Colombia Consulate, not at the Embassy. Whether you need a tourist visa, as well as its price, depends on your nationality.
Please refer to the below for more detailed information:
Visitor Visas:
Tourist Visa
Temporary Visitor Visa
Technical Visitor Visa
Business Visa
Crew Member Visa
Temporary Visas
Work Visa
Spouse Visa
Parent of Colombian Citizen Visa
Religious Worker Visa
Student Visa
Refugee Visa
Special Temporary Visa
Visa for Medical Treatment
Visa to Intervene in Administrative or Judicial Processes
Visa for a Partner or Owner of Public or Commercial Property
Visa for Retired Person
Visa as Member of an NGO
Visa for an Adoption Procedure
Resident Visa
Family Member of a Colombian National
Qualified
Investor
Courtesy visa
source: http://www.colombiaemb.org