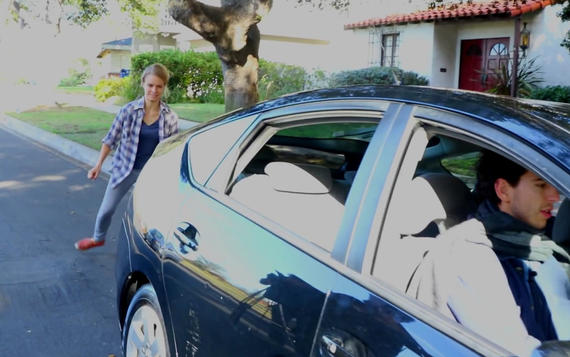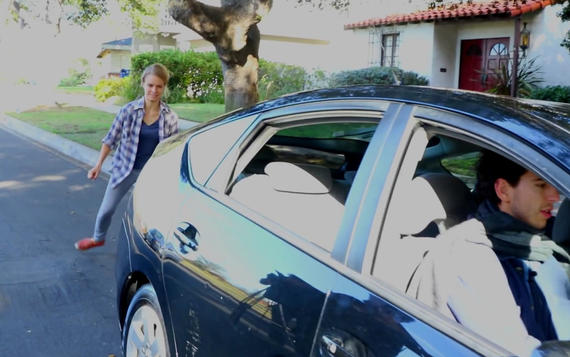 You don't have to be Quentin Tarantino to use unusual camera gear for a film project. Tarantino dug up some obscure and rare 70mm lenses for his latest release, "The Hateful Eight." Comedy troupe Mommy Comedy searched a little closer to home and came up with a Prius backup camera.
Sketch comedy group Mommy Comedy published a video last week about an attempt to shoot a film with the Toyota backup camera in a Prius. It's disguised as a making-of video showing behind-the-scenes action intercut with interviews with the cast and crew of a fictional film called "Check Your Surroundings for Safety."
"Alfred Hitchcock. Stanley Kubrick. Orson Welles," intones a faux producer. "None of these guys have even thought about shooting a film on a Prius backup camera."
The video pokes fun at filmmakers who try to use experimental gear to set their movies apart. Pretentious behind-the-scenes documentaries also get a good skewering as the filmmakers try to justify their decisions with a cloak of artistic pompousness.
Related stories
Honest Trailers' 'Labyrinth' roast turns into David Bowie tribute
Pee-wee Herman madness returns in Netflix movie teaser
'The BFG' teaser trailer plays out like a horror classic
So what would a backup-camera film actually look like? Mommy Comedy does a good job of showing just how terrible an idea it would be. The video quality is poor. The sides of the shot are curved and distorted. The sound man has to contend with the car's beeping backup noises.
The actors are constantly in danger of being run over. "Usually when you're that close to a lens, you're worried about how does my face look. I was more worried about 'Am I going to be hit?'" an actress quips. Close-up shots are particularly challenging.
The answer as to whether or not you could use a Prius backup camera to shoot an entire movie is this: you probably could, but you really shouldn't.
(Via Ubergizmo)