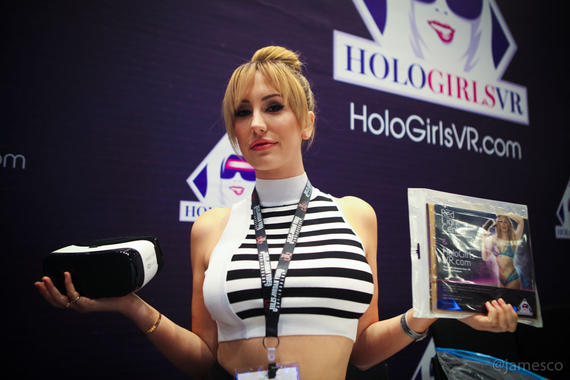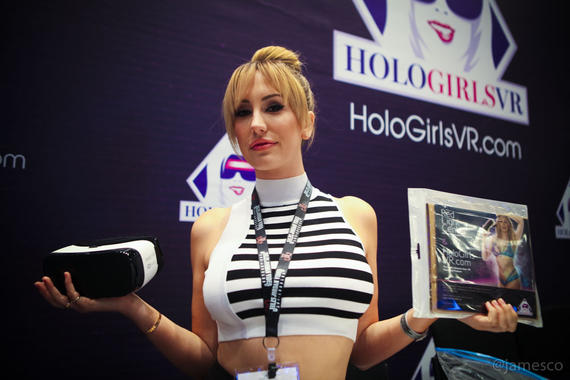 Anna Lee has been in the adult entertainment business for about 18 years, working in everything from the webcam business to a fantasy role-play site. Her most ambitious project yet: virtual reality.
Beginning last year, Lee's company, Holo Films Productions of Vancouver, British Columbia, started using specialized cameras that can capture 360-degrees of action so viewers who strap on a pair of goggles and a screen to their face feel like they've actually stepped onto the set.
"It's the next progression of everything entertainment," says Lee, speaking in a convention hall crowded with other porn studios and sex toy companies at the Hard Rock Hotel in Las Vegas, where the AVN Expo is taking place. "And, of course, with porn, now you're with your favorite porn star, sitting in the room with her. She's looking at you, she's talking to you."
The website featuring Lee's initial 60 VR porn scenes, HoloGirlsVR.com, launched Tuesday and features actresses like Cherie DeVille, who are doing a lot more than talking.
Welcome to the future of porn.
The industry has become obsessed with VR and the host of new products coming out like Facebook's high-end $600 Oculus Rift headset and Sony's so-far unpriced PlayStation VR. There's also Google, whose roughly $20 Cardboard VR headsets offer a cheap alternative that uses your smartphone. While these devices are being marketed as game machines, the porn industry sees them as a way to get skin to your eyes and money out of your pants.
"It's like you can reach out and touch them, that's how close they are to you," says longtime porn actress Brett Rossi, an ex-fiancee of TV star Charlie Sheen who appears in Lee's new VR videos. "It's so detailed that you can see a freckle on your ass."
Whipping into shape
You'd think with all the porn out there — it rakes in $3.3 billion a year — the industry wouldn't need another way to bring it to you, but you'd be surprised.
Porn revenue is basically stagnant. IBIS World, a research firm, projects online porn revenue will increase by less than 1 percent every year between now and 2020. That's despite a recent University of Texas study indicating 46 percent of men and 16 percent of women between 18 and 39 years old watch porn every week.
At AVN 2016, porn goes deep with virtual…
Eating away at porn's profits is piracy. Porn is some of the most freely traded content on peer-to-peer sharing sites, and when it's not there, people are watching on YouTube-like video sites, streaming free porn all day long.
"The days of getting a customer to get a subscription and rebill forever are pretty much gone," says Tony Rios, chief executive of AVN, the trade association that represents the adult biz and hosts its Las Vegas confab.
Porn is hoping to stay ahead of all the piracy through VR and the huge data files it requires.
Related Articles
VR porn lends a hand. Masturbation will never be the same
I'm no longer a VR porn virgin (slightly NSFW)
Will virtual reality make you buy more? Retailers are betting on it
Live VR not ready for prime time
Not ready for its close-up: Virtual reality makes presidential debate virtually unwatchable
Virtual reality porn? Oculus founder says he won't stop it
Not everyone's convinced this will work. Bryant Paul, a communications professor at Indiana University and a researcher at the Kinsey Institute, says VR won't attract people away from the plentiful and free online video that's already getting the job done.
"I think the companies that are investing a lot of tech and money into VR sex tech are going to take a bath," he says flatly.
The skepticism isn't stopping the industry from trying.
Lee's Holo Film was among at least six companies creating VR porn that are exhibiting at the expo. There's also the Holodexxx adult-themed VR game (no demo, sadly) and CamSoda, which acts as a digital strip club, where performers act out fantasies for paying customers in real time. CamSoda began offering VR to its subscribers about two months ago.
Just beyond CamSoda's booth, which is playing a looped video of girls performing on a screen overhead, I passed SheMaleStrokers.com and DildoOfTheDay.com. I wasn't interested and kept moving until I met Daniel Abramovich, who introduced me to his not-so-subtly named company, VRBangers, which began selling subscriptions to its 16 virtual reality videos two months ago.
Abramovich had me watch a demo, titled "The Busty Black Maid." Imagine a nice house where you're sitting in a chair and she's doing pretty much everything you can think of.
Pay $39.99 for a three-month plan and Abramovich will even send you a cardboard VR headset to watch his vids with. It's got a silhouette of a naked lady on it. He's selling 50 subscriptions a day.
Abramovich says the appeal of VR porn is simple.
"You wear the headset and you really feel like you're really there with the girl, having that fun that you want to have," he said.