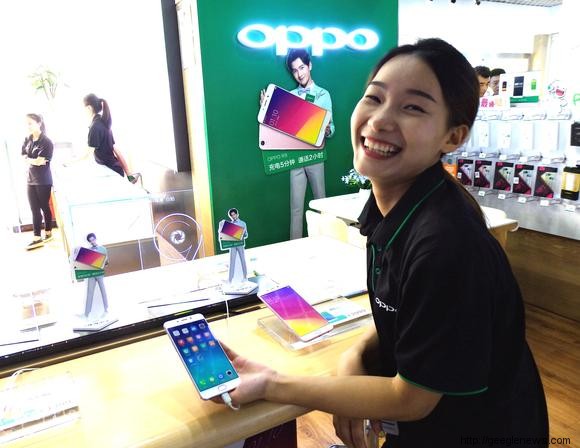 March 8, 2017 4:00 pm JST
Can Oppo pause China's smartphone treadmill?
This year's upstart is vulnerable to changing trends
YU NAKAMURA, Nikkei staff writer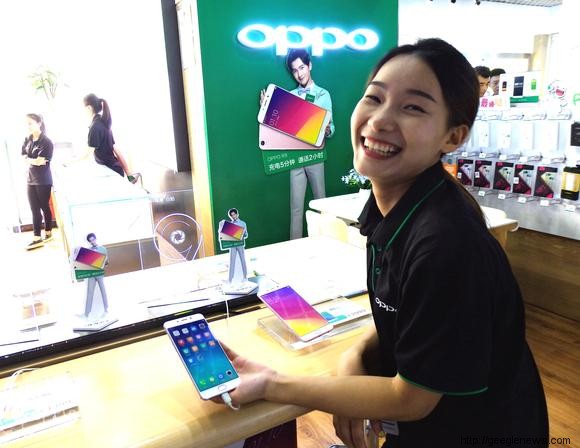 Oppo's handsets on display.
BEIJING — After topping China's smartphone sales charts in 2016, Oppo Electronics is now on defense, at the mercy of the country's fast-moving trend cycle that crowns a new smartphone king every year or so.
Since 2013, the top-selling brand in the world's largest smartphone market has rarely managed to keep that title for long. South Korea's Samsung Electronics was quickly supplanted by China's Xaiomi, which fell to Apple of the U.S. before Huawei Technologies took the throne.
None was able to hold the top spot for more than a year, and those losing the lead have seen their market shares shrink steadily. Unlike in the global market, where Samsung and Apple have long held steady at No. 1 and No. 2, China has little room for anything but the latest hot seller.
Quick turnover
Take Xiaomi, which topped the Chinese market in 2014 and held that position for nearly a year. By 2016, it had tumbled to fifth place by sales. Earnings plunged 36% on the year. Xiaomi dealerships now take whatever space they can get in China's electronics districts — a sign that mounting a recovery will be no easy task.
Even Apple could not avoid this rise and fall. China Mobile, this country's leading wireless carrier, sparked Apple fever in 2014 when it struck an agreement to sell the iPhone in China. Apple rose to the top of sales charts early the following year, dethroning Xiaomi. Reports even emerged of tech fanatics selling their organs to fund iPhone purchases.
But the fever soon cooled, and Huawei took over as the market leader. Apple dropped to No. 4 by sales in 2016. Samsung, which led the market in 2013, dropped to No. 6.
It is now Oppo's turn to defend the throne. The company's rise is in many ways the mirror image of Xiaomi's fall, and rests on a departure from the latter's low-cost, internet-based sales model. Oppo invested heavily in brick-and-mortar stores offering a level of customer service rarely found in China, the goal being to build the value of the Oppo brand.
The company has also kept its focus trained on mid-range to high-end handsets going for the equivalent of $350 to $450. Xiaomi, by contrast, sought market share by pushing devices from the Redmi budget brand, which run around $100. Meanwhile, sales efforts both in major cities and smaller regional cities gave Oppo a broader demand base than its forerunner, which focused mainly on larger markets.
In-house production gives Oppo an edge as well. This strategy appears costlier than Xiaomi's contract production model at first glance. But it will let Oppo amass production expertise over time, and enables closer cooperation with suppliers and fine-tuned adjustments to output, feeding into the brand's meteoric rise.
Not immune
It is difficult to tell just how long these advantages will hold. Emerging phone makers are expected to replicate Oppo's business model in their bids to unseat the current leader, intensifying competition in an already forbidding market.
"Our leadership is treading very carefully," a source at Oppo close to senior management said. "While the company has drawn a good deal of attention, even from around the world, the mood here is still down to earth."
According to this person, Oppo is "a young company — [workers'] average age is only around 30." The real battle "will take place from here on out," the source said, adding that "keeping up current excitement is no simple task."
Oppo is still a highly visible presence across China, between shops and advertisements. But whether it stays on top or fades away is largely up to users themselves — the ultimate judges of whether Oppo is still on trend.