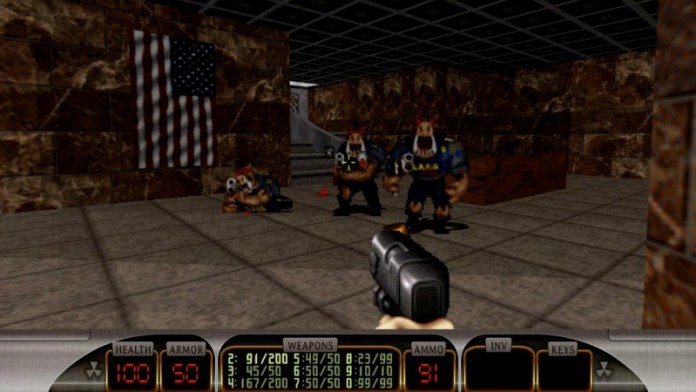 It was 20 years ago today that Duke Nukem 3D, one of the most influential (and controversial) shooters of the 1990s, was released. To mark the occasion, Duke Nukem co-creator George Broussard has been sharing photos and details about the game's development on Twitter.
"Duke 3D was made in 2.5 years (long time then!) with around 15 people and about $350,000 (earned out 7x on 1st day)," he wrote. "We were shocked."
Broussard also talked about preorders for the game, which was obviously a much different scene than that it is today. "We had 50,000 preorders for Duke 3D (all by check/mail/phone) that we shipped internally over a week!" he said.
He then went on to share a number of photos taken of the development team at the time. More interesting are pictures of his notebook from the time, as well as screenshots of notes he wrote for other 3D Realms employees. This includes level design thoughts and prep notes for the first recording sessions with voice actors Jon St. John and Lani Minella.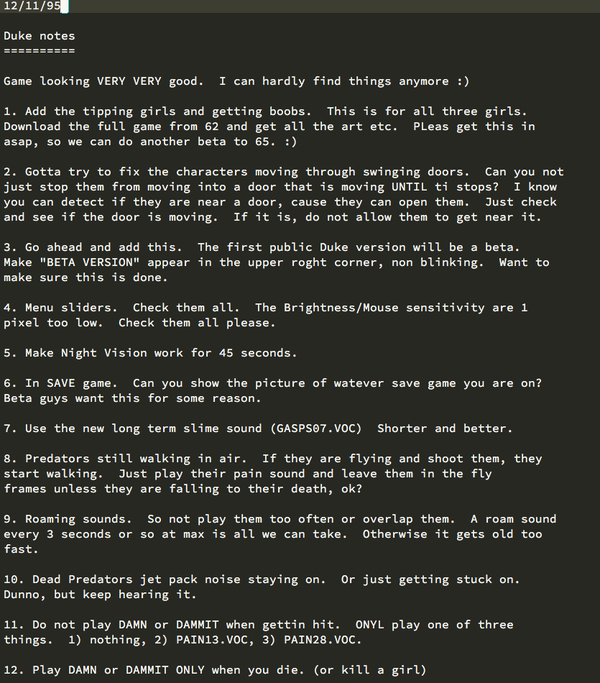 We've compiled some of these images in the gallery above. You can see the rest, along with some other anecdotes, on Broussard's Twitter account.
Duke Nukem 3D, the third game in the Duke Nukem series, debuted on January 29, 1996. Unlike the previous two games, which were side-scrolling platformers, 3D took the series into first-person shooter territory. It was lauded for, among other things, the interactivity of its levels but also courted controversy due to its violence and portrayal of women. Despite its commercial success, it didn't receive a proper follow-up for 15 years, as its sequel, Duke Nukem Forever, went through one of the longest and most protracted development cycles ever.