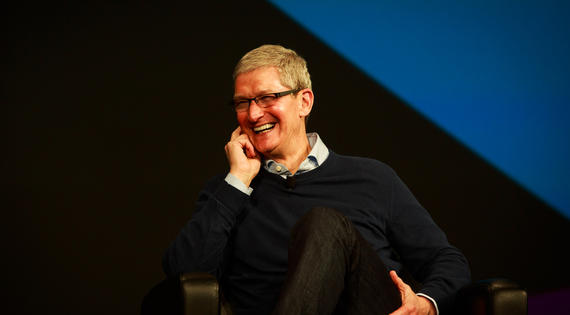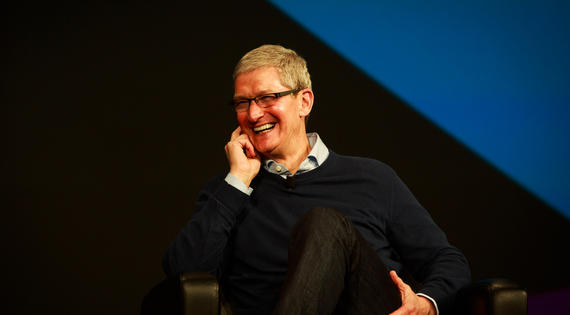 You'd think Apple CEO Tim Cook would take a victory lap after his company reported the most profitable quarter in history, again.
Instead, Cook used terms like "extreme conditions" and "bleak" to describe the business environment.
The disparity between the company's fiscal first-quarter results on Tuesday and its forecast for the current quarter couldn't be greater, with a historically strong profit giving way to concerns about whether Apple can keep up its momentum. Given its forecast for declining revenue (its first drop in a decade) and falling iPhone sales (its first drop ever), it appears Apple has hit a wall.
The quarterly results, which saw iPhone sales tick up ever so slightly from a year ago, are a testament to the challenges that Cupertino, California-based Apple faces in keeping the sales juggernaut humming. The quarter, which ended in late December, is likewise a reflection that we may finally be getting over smartphones, including the iPhone.
That's not all we learned. From virtual reality to a staggering 1 billion active devices across the globe, here are the six juiciest tidbits shared by Cook on Apple's investor conference call.
1. Pretty much anywhere you go, the economy stinks.
Cook didn't mince words when talking about what Apple's running into around the world.
"We're seeing extreme conditions, unlike anything we've experienced before just about everywhere we look," Cook said. He noted that key markets including Brazil, Canada and Japan were hurt by the slowing economy, falling commodity prices and weakening currencies.
That's a bigger deal because 66 percent of Apple's revenue comes from outside the US, Cook said. In addition, he blamed currency fluctuations for this quarter's weaker revenue figure. The company posted revenue of $75.9 billion, but Cook said that if you took out the currency exchange rate, it would have been $80.8 billion.
2. China's still doing great (kind of)
Apple's strongest market for the past year has been China, but even that country is starting to see slowing sales thanks to an economic downturn that have folks gun-shy about buying a pricey iPhone.
Cook, however, noted that Apple posted its "best ever" results from China, with revenue growing 14 percent from a year ago. There's certainly a deceleration; its growth a year ago was 99 percent. Sales growth in the fiscal fourth quarter was 70 percent.
"We remain very confident about the long-term potential of the China market and the large opportunities ahead of us," he said, "and we are maintaining our investment plans."
3. A billion devices
For the first time, Apple crossed over the 1 billion mark for active devices around the world. That includes iPhones, iPads, Macs, Apple TVs, iPods and Apple Watches. Cook argues that huge numbers mean a greater likelihood of success for services like Apple Pay and Apple Music.
"This is an unbelievable asset for us," he said.
4. Apple services are on the rise
Speaking of services, Cook mentioned that consumers have spent billions of dollars in purchases through Apple Pay, which lets you pay at the cash register with the wave of your phone. Apple Music, meanwhile, has gained 10 million paying subscribers since the free trial ended.
With hardware sales potentially in decline, Apple will lean more heavily on getting you to use its services as another way to generate money.
"Because our customers are very satisfied and engaged, they spend a lot of time on their devices and purchase apps, content and other services," he said.
5. Cook 'blown away' by Android switchers
In a subtle reminder that Apple is still sitting prettier than its rivals, Cook said he was "blown away" by the number of consumers switching from Android devices to iPhones. He added it was the highest level so far.
That's partly why Cook said that although iPhone sales will decline in its fiscal second quarter, they likely won't fall as much as people fear.
6. Virtual reality is not a niche
Apple executives typically stay mum on new tech trends. That's just how they roll. So it's surprising that Cook would comment on, let alone sing the praises of, virtual reality, which is closely associated at the moment with the likes of Google, Samsung and Facebook's Oculus.
"I don't think it's a niche," he said. "It's really cool and has some interesting applications."
That is as close to a confirmation that Apple is working on a VR product as we're going to get.